Insider Buying: First South Bancorp Inc. (FSBK) CEO Acquires $26,487.00 in Stock
First South Bancorp Inc. (NASDAQ:FSBK) CEO Bruce W. Elder purchased 2,700 shares of the business's stock in a transaction that occurred on Wednesday, September 28th. The stock was acquired at an average price of $9.81 per share, for a total transaction of $26,487.00. Following the acquisition, the chief executive officer now owns 14,700 shares in the company, valued at approximately $144,207. The acquisition was disclosed in a filing with the Securities & Exchange Commission, which can be accessed through this link.
First South Bancorp (NASDAQ:FSBK) last released its quarterly earnings results on Thursday, July 21st. The company reported $0.17 EPS for the quarter. First South Bancorp had a net margin of 11.98% and a return on equity of 7.01%.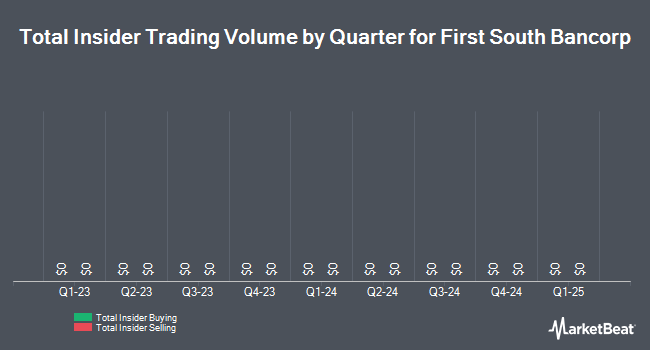 About First South Bancorp
First South Bancorp, Inc is the bank holding company for First South Bank (the Bank). Through the Bank, the Company operates a commercial banking business. The Bank is a North Carolina chartered commercial bank. The Bank's segment is providing general commercial banking services to its markets located in the state of North Carolina.
Receive News & Ratings for First South Bancorp Inc. Daily - Enter your email address below to receive a concise daily summary of the latest news and analysts' ratings for First South Bancorp Inc. and related companies with MarketBeat.com's FREE daily email newsletter.