Insider Buying: Maintel Holdings plc (MAI) Insider Buys £147 in Stock
Maintel Holdings plc (LON:MAI) insider Kevin Stevens bought 15 shares of the stock in a transaction that occurred on Friday, September 30th. The shares were purchased at an average price of GBX 980 ($12.79) per share, with a total value of £147 ($191.88).
Maintel Holdings plc (LON:MAI) opened at 937.50 on Wednesday. The stock's market capitalization is GBX 112.43 million. The company's 50-day moving average price is GBX 955.20 and its 200-day moving average price is GBX 890.55. Maintel Holdings plc has a one year low of GBX 675.00 and a one year high of GBX 1,130.00.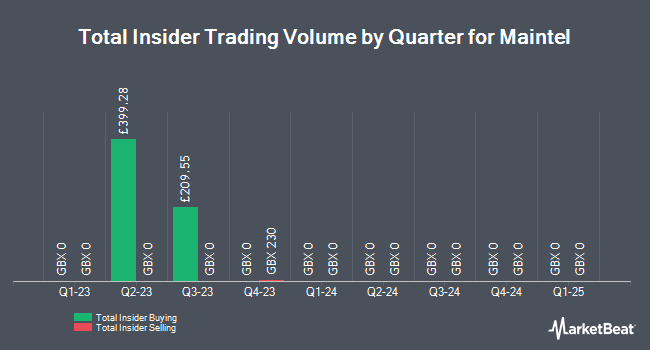 The business also recently disclosed a dividend, which will be paid on Wednesday, October 12th. Stockholders of record on Thursday, September 29th will be given a GBX 13.40 ($0.17) dividend. The ex-dividend date of this dividend is Thursday, September 29th. This represents a dividend yield of 1.35%.
Separately, FinnCap restated a "corporate" rating and set a GBX 1,150 ($15.01) target price on shares of Maintel Holdings plc in a report on Monday, August 15th.
Maintel Holdings plc Company Profile
Maintel Holdings Plc is engaged in the provision of contracted managed services, the sale and installation of telecommunications systems and the provision of fixed line, mobile and data telecommunications services, to the enterprise business sector. The Company operates through three segments: telecommunications managed service and technology sales, telecommunications network services and mobile services.
Receive News & Ratings for Maintel Holdings plc Daily - Enter your email address below to receive a concise daily summary of the latest news and analysts' ratings for Maintel Holdings plc and related companies with MarketBeat.com's FREE daily email newsletter.