The Zweig Fund, Inc. (ZF) to Issue Dividend Increase – $0.36 Per Share
The Zweig Fund, Inc. (NYSE:ZF) declared a quarterly dividend on Thursday, September 22nd. Stockholders of record on Thursday, October 13th will be paid a dividend of 0.361 per share by the closed-end fund on Thursday, October 20th. This represents a $1.44 annualized dividend and a dividend yield of 11.37%. The ex-dividend date is Tuesday, October 11th. This is an increase from The Zweig Fund's previous quarterly dividend of $0.36.
The Zweig Fund (NYSE:ZF) opened at 12.70 on Thursday. The stock's 50 day moving average is $12.79 and its 200 day moving average is $12.78. The Zweig Fund has a one year low of $11.00 and a one year high of $13.78.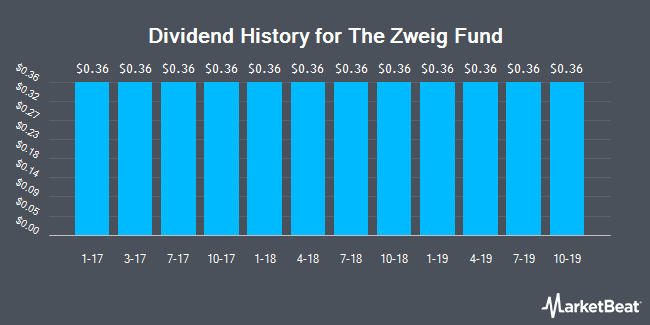 The Zweig Fund Company Profile
The Zweig Fund, Inc (the Fund) is a closed-end, diversified management investment company. The Fund's investment objective is capital appreciation, with income as a secondary objective. The Fund invests in various sectors, such as consumer discretionary, consumer staples, energy, financials, healthcare, industrials, information technology, materials and telecommunication services.
Receive News & Ratings for The Zweig Fund Inc. Daily - Enter your email address below to receive a concise daily summary of the latest news and analysts' ratings for The Zweig Fund Inc. and related companies with MarketBeat.com's FREE daily email newsletter.