Holcim Ltd. (HCMLY) Upgraded by Zacks Investment Research to "Hold"
Zacks Investment Research upgraded shares of Holcim Ltd. (OTCMKTS:HCMLY) from a sell rating to a hold rating in a research report released on Wednesday.
According to Zacks, "LafargeHolcim Limited is involved in building materials industry. The Company's operating segment consists of Cement, Aggregates, Other construction materials and services and Corporate. Cement segment is involved in the development of cement and comprises cementitious materials. Aggregates business segment includes crushed stone, gravel and sand. Other construction materials and services segment comprises ready-mix concrete, concrete products, asphalt, construction and paving, and trading as well as environmental services, including waste management. Corporate segment is engaged in holding activities and general management. It operates primarily in Asia Pacific, Latin America, Europe, North America, Africa and Middle East regions. LafargeHolcim Limited, formerly known as Holcim Ltd, is headquartered in Jona, Switzerland. "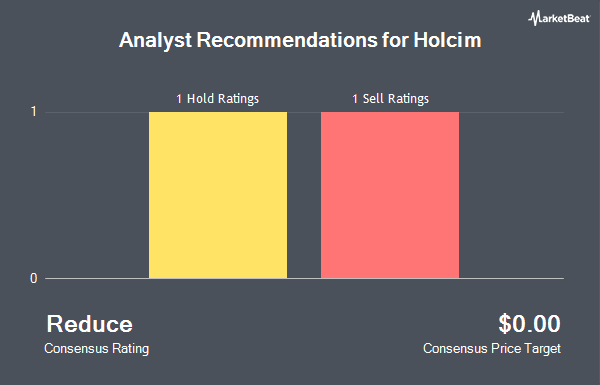 Holcim (OTCMKTS:HCMLY) opened at 10.74 on Wednesday. Holcim has a 12 month low of $6.92 and a 12 month high of $11.78. The company's market cap is $32.55 billion. The company's 50-day moving average is $10.54 and its 200-day moving average is $9.50.
Holcim Company Profile
Lafargeholcim Ltd. is a Switzerland-based manufacturer of building materials. The Company operates in five geographical segments: Asia Pacific, Latin America, Europe, North America and Africa Middle East. It operates as a supplier of cement, aggregates and concrete. The Company's aggregates include crushed stone, gravel and sand.
Get a free copy of the Zacks research report on Holcim (HCMLY)
For more information about research offerings from Zacks Investment Research, visit Zacks.com
Receive News & Ratings for Holcim Ltd. Daily - Enter your email address below to receive a concise daily summary of the latest news and analysts' ratings for Holcim Ltd. and related companies with MarketBeat.com's FREE daily email newsletter.