BT Group plc (BT.A) Earns Buy Rating from Haitong Bank
Haitong Bank reissued their buy rating on shares of BT Group plc (LON:BT.A) in a research report released on Tuesday. The brokerage currently has a GBX 560 ($7.31) price objective on the communications services company's stock.
Several other analysts have also issued reports on BT.A. JPMorgan Chase & Co. dropped their target price on BT Group plc from GBX 530 ($6.92) to GBX 490 ($6.40) and set an overweight rating on the stock in a report on Thursday, June 30th. Beaufort Securities reiterated a buy rating on shares of BT Group plc in a report on Friday, July 29th. Societe Generale reiterated a buy rating and set a GBX 545 ($7.11) target price on shares of BT Group plc in a report on Monday, June 13th. Credit Suisse Group AG lowered BT Group plc to a neutral rating and dropped their target price for the stock from GBX 510 ($6.66) to GBX 400 ($5.22) in a report on Monday, June 27th. Finally, Deutsche Bank AG reiterated a sell rating and set a GBX 410 ($5.35) target price on shares of BT Group plc in a report on Wednesday, July 27th. Five analysts have rated the stock with a sell rating, eight have assigned a hold rating and twelve have issued a buy rating to the company's stock. BT Group plc has a consensus rating of Hold and a consensus target price of GBX 475.08 ($6.20).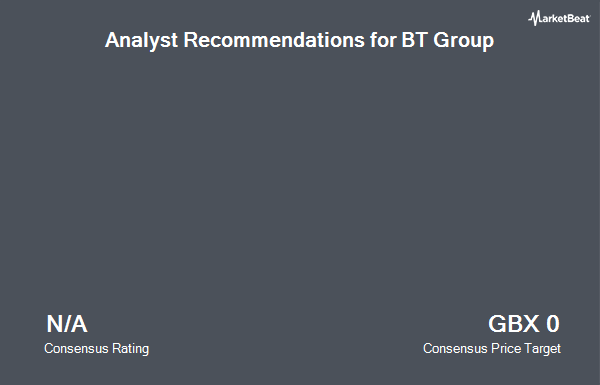 In other BT Group plc news, insider Patterson,Gavin purchased 331 shares of the firm's stock in a transaction on Friday, August 12th. The stock was purchased at an average cost of GBX 399 ($5.21) per share, for a total transaction of £1,320.69 ($1,723.91). Also, insider Wilcox,Alison sold 40,329 shares of the stock in a transaction dated Monday, August 1st. The stock was sold at an average price of GBX 417 ($5.44), for a total value of £168,171.93 ($219,516.94).
About BT Group plc
BT Group plc is a communications services company. The Company's activities are the provision of fixed-line services, broadband, mobile and television products and services, as well as managed networked information technology (IT) services in both the United Kingdom and across the globe. The Company operates in five segments: BT Global Services, BT Business, BT Consumer, BT Wholesale and Openreach.
Receive News & Ratings for BT Group plc Daily - Enter your email address below to receive a concise daily summary of the latest news and analysts' ratings for BT Group plc and related companies with MarketBeat.com's FREE daily email newsletter.