Alex Smith Buys 80 Shares of SThree Plc (STHR) Stock
SThree Plc (LON:STHR) insider Alex Smith purchased 80 shares of SThree Plc stock in a transaction dated Wednesday, October 12th. The stock was acquired at an average price of GBX 237 ($2.93) per share, for a total transaction of £189.60 ($234.65).
Shares of SThree Plc (LON:STHR) traded down 1.91% during mid-day trading on Thursday, reaching GBX 230.50. The company's stock had a trading volume of 132,309 shares. The stock's market cap is GBX 296.19 million. SThree Plc has a one year low of GBX 226.30 and a one year high of GBX 368.33. The stock has a 50 day moving average of GBX 248.26 and a 200-day moving average of GBX 283.74.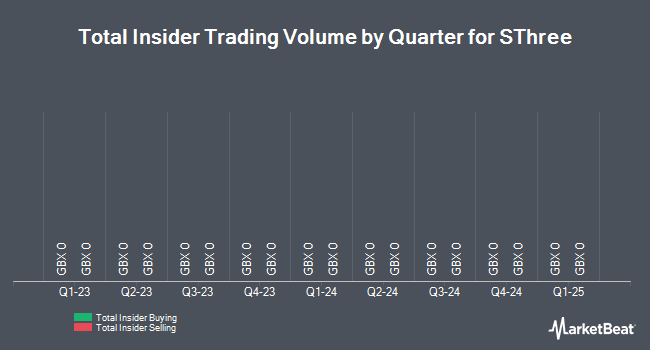 STHR has been the topic of several research reports. Liberum Capital restated a "buy" rating and set a GBX 340 ($4.21) price objective on shares of SThree Plc in a report on Friday, September 9th. Numis Securities Ltd reduced their price objective on SThree Plc from GBX 360 ($4.46) to GBX 280 ($3.47) and set a "hold" rating on the stock in a report on Wednesday, July 6th. Finally, Credit Suisse Group AG downgraded SThree Plc to an "underperform" rating and reduced their price objective for the stock from GBX 400 ($4.95) to GBX 240 ($2.97) in a report on Friday, July 1st. One equities research analyst has rated the stock with a sell rating, two have issued a hold rating and four have assigned a buy rating to the stock. SThree Plc has a consensus rating of "Hold" and a consensus target price of GBX 357.86 ($4.43).
About SThree Plc
SThree plc is a United Kingdom-based company engaged in specialist staffing business. The Company is engaged in providing permanent and contract specialist services. Its segments include United Kingdom & Ireland, Continental Europe, Americas, and Asia Pacific & Middle East. It provides services to Information and communication technology (ICT), banking and finance, energy, engineering and life sciences, other sectors.
Receive News & Ratings for SThree Plc Daily - Enter your email address below to receive a concise daily summary of the latest news and analysts' ratings for SThree Plc and related companies with MarketBeat.com's FREE daily email newsletter.