Essentra PLC (ESNT) Earns Buy Rating from Numis Securities Ltd
Numis Securities Ltd reiterated their buy rating on shares of Essentra PLC (LON:ESNT) in a research note issued to investors on Wednesday. They currently have a GBX 635 ($7.86) price objective on the stock.
Several other analysts have also issued reports on ESNT. Citigroup Inc. restated a buy rating on shares of Essentra PLC in a research report on Tuesday, June 21st. JPMorgan Chase & Co. upped their price target on shares of Essentra PLC from GBX 693 ($8.58) to GBX 710 ($8.79) and gave the company an overweight rating in a research report on Friday, July 8th. Jefferies Group dropped their target price on shares of Essentra PLC from GBX 950 ($11.76) to GBX 715 ($8.85) and set a buy rating for the company in a report on Friday, July 15th. Finally, Deutsche Bank AG lowered shares of Essentra PLC to a hold rating and increased their target price for the stock from GBX 635 ($7.86) to GBX 670 ($8.29) in a report on Tuesday, July 19th. One investment analyst has rated the stock with a sell rating, one has issued a hold rating and four have issued a buy rating to the stock. The company presently has a consensus rating of Buy and a consensus price target of GBX 637.83 ($7.89).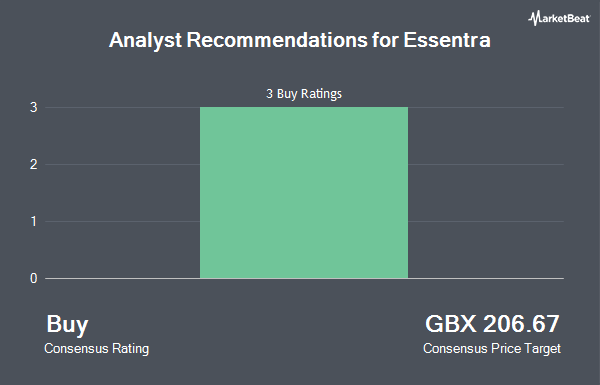 Shares of Essentra PLC (LON:ESNT) opened at 524.50 on Wednesday. Essentra PLC has a 12 month low of GBX 465.10 and a 12 month high of GBX 899.50. The company has a 50-day moving average price of GBX 512.23 and a 200-day moving average price of GBX 638.81. The company's market capitalization is GBX 1.37 billion.
The business also recently declared a dividend, which will be paid on Monday, October 31st. Investors of record on Thursday, September 29th will be paid a GBX 6.30 ($0.08) dividend. This represents a yield of 1.3%. The ex-dividend date is Thursday, September 29th.
About Essentra PLC
Essentra plc is a United Kingdom-based manufacturer and distributor of plastic injection molded, vinyl dip molded and metal items. The Company's segments include Component Solutions, Health & Personal Care Packaging and Filtration Products. The Component Solutions segment includes the components, pipe protection technologies (PPT), extrusion and security businesses each of which serves customers in light and heavy industry.
Receive News & Ratings for Essentra PLC Daily - Enter your email address below to receive a concise daily summary of the latest news and analysts' ratings for Essentra PLC and related companies with MarketBeat.com's FREE daily email newsletter.