National Bank Financial Equities Analysts Decrease Earnings Estimates for Alacer Gold Corp (ASR)
Alacer Gold Corp (TSE:ASR) – Research analysts at National Bank Financial dropped their FY2017 earnings per share estimates for Alacer Gold Corp in a research report issued on Wednesday. National Bank Financial analyst S. Parsons now anticipates that the firm will post earnings of ($0.06) per share for the year, down from their previous estimate of ($0.03).
ASR has been the topic of a number of other research reports. Raymond James Financial Inc. lifted their price objective on Alacer Gold Corp from C$4.25 to C$4.50 in a report on Monday, June 27th. Scotiabank lifted their price objective on Alacer Gold Corp from C$4.50 to C$4.75 and gave the company an "outperform" rating in a report on Wednesday, September 14th. Four equities research analysts have rated the stock with a hold rating and one has given a buy rating to the company's stock. The company has an average rating of "Hold" and a consensus price target of C$3.92.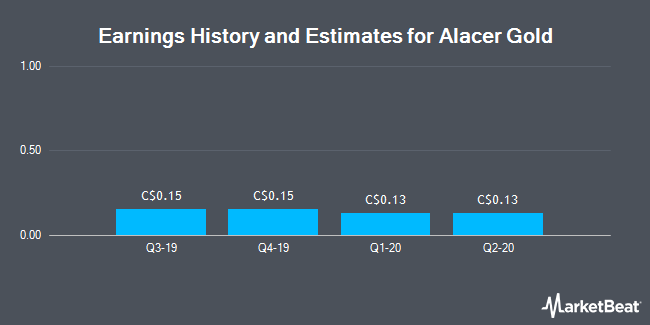 Alacer Gold Corp (TSE:ASR) traded up 1.04% on Monday, reaching $2.92. 258,515 shares of the company's stock traded hands. The firm's 50-day moving average is $3.26 and its 200 day moving average is $3.14. Alacer Gold Corp has a 12 month low of $2.08 and a 12 month high of $3.79. The firm has a market cap of $852.46 million and a PE ratio of 26.79.
Alacer Gold Corp Company Profile
Alacer Gold Corp. (Alacer) is an intermediate gold mining company. The Company operates in the segment of mining, development and exploration of mineral deposits in Turkey. The Company's principal products are gold, copper and silver. The Company has an interest in the Copler Gold Mine in Turkey. Its Copler Sulfide Expansion Project is a gold exploration project located in east-central Turkey.
Receive News & Ratings for Alacer Gold Corp Daily - Enter your email address below to receive a concise daily summary of the latest news and analysts' ratings for Alacer Gold Corp and related companies with MarketBeat.com's FREE daily email newsletter.