Omega Flex Inc. (OFLX) Releases Quarterly Earnings Results
Omega Flex Inc. (NASDAQ:OFLX) posted its quarterly earnings data on Wednesday. The company reported $0.39 earnings per share for the quarter. Omega Flex had a return on equity of 34.67% and a net margin of 16.12%. The company earned $23.90 million during the quarter, compared to analysts' expectations of $24.60 million.
Omega Flex (NASDAQ:OFLX) traded up 0.42% during midday trading on Wednesday, hitting $38.71. The stock had a trading volume of 11,045 shares. The firm has a market capitalization of $390.62 million, a price-to-earnings ratio of 25.48 and a beta of 0.80. The firm has a 50-day moving average price of $38.03 and a 200-day moving average price of $36.17. Omega Flex has a 1-year low of $27.51 and a 1-year high of $43.20.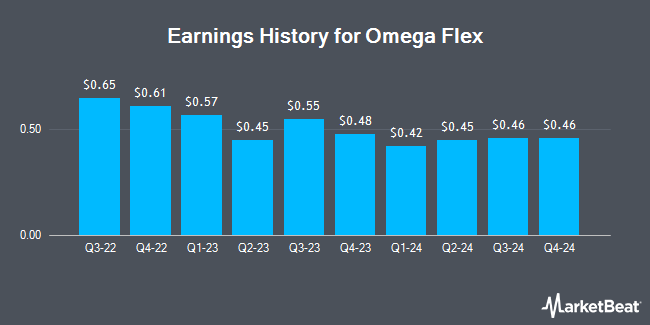 About Omega Flex
Omega Flex, Inc is a manufacturer of flexible metal hose, which is used in a range of applications to carry gases and liquids within their particular applications. The Company operates in the segment of manufacture and sale of flexible metal hose and accessories. The Company's products are concentrated in residential and commercial construction, and general industrial markets.
Receive News & Ratings for Omega Flex Inc. Daily - Enter your email address below to receive a concise daily summary of the latest news and analysts' ratings for Omega Flex Inc. and related companies with MarketBeat.com's FREE daily email newsletter.