UMH Properties Inc. (UMH) Director Matthew I. Hirsch Purchases 899 Shares
UMH Properties Inc. (NYSE:UMH) Director Matthew I. Hirsch bought 899 shares of the company's stock in a transaction on Monday, October 17th. The stock was bought at an average price of $11.13 per share, for a total transaction of $10,005.87. The acquisition was disclosed in a legal filing with the Securities & Exchange Commission, which is available at this link.
Shares of UMH Properties Inc. (NYSE:UMH) opened at 11.95 on Wednesday. UMH Properties Inc. has a 12 month low of $9.00 and a 12 month high of $12.70. The stock's market cap is $330.87 million. The firm's 50-day moving average is $11.83 and its 200 day moving average is $11.15.
UMH Properties (NYSE:UMH) last released its earnings results on Thursday, August 4th. The real estate investment trust reported $0.18 EPS for the quarter, topping analysts' consensus estimates of $0.16 by $0.02. UMH Properties had a negative net margin of 5.23% and a negative return on equity of 4.24%. On average, equities analysts predict that UMH Properties Inc. will post $0.73 EPS for the current year.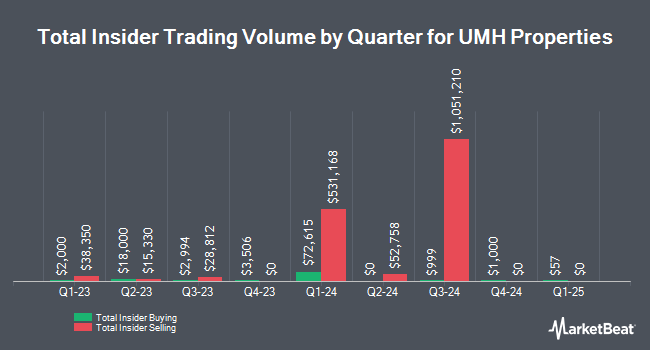 The business also recently disclosed a quarterly dividend, which will be paid on Thursday, December 15th. Stockholders of record on Tuesday, November 15th will be given a dividend of $0.18 per share. This represents a $0.72 annualized dividend and a dividend yield of 6.03%. The ex-dividend date of this dividend is Thursday, November 10th. UMH Properties's payout ratio is currently -399.98%.
A number of research analysts have weighed in on the stock. Wunderlich boosted their target price on shares of UMH Properties from $11.00 to $13.00 and gave the company a "buy" rating in a research note on Monday, August 8th. Zacks Investment Research upgraded shares of UMH Properties from a "hold" rating to a "buy" rating and set a $14.00 target price on the stock in a research note on Thursday, July 28th.
UMH Properties Company Profile
UMH Properties, Inc operates as a real estate investment trust (REIT). The Company's primary business is the ownership and operation of manufactured home communities, including leasing manufactured home sites to private manufactured home owners. It also leases homes to residents, and through its REIT subsidiary, UMH Sales and Finance, Inc (S&F), the Company sells and finances the sale of manufactured homes in its communities.
Receive News & Ratings for UMH Properties Inc. Daily - Enter your email address below to receive a concise daily summary of the latest news and analysts' ratings for UMH Properties Inc. and related companies with MarketBeat.com's FREE daily email newsletter.