Ivanhoe Mines Ltd (IVN) Earns Speculative Buy Rating from Canaccord Genuity
Canaccord Genuity reaffirmed their speculative buy rating on shares of Ivanhoe Mines Ltd (TSE:IVN) in a research note released on Friday morning. They currently have a C$3.50 price objective on the stock.
Several other brokerages have also recently commented on IVN. Royal Bank Of Canada reaffirmed an outperform rating on shares of Ivanhoe Mines in a research report on Monday, November 21st. BMO Capital Markets reissued an outperform rating on shares of Ivanhoe Mines in a report on Tuesday, November 8th. Finally, Raymond James Financial Inc. raised their target price on shares of Ivanhoe Mines from C$1.60 to C$2.25 in a report on Monday, August 15th. One investment analyst has rated the stock with a hold rating and four have given a buy rating to the stock. The company currently has an average rating of Buy and a consensus target price of C$2.35.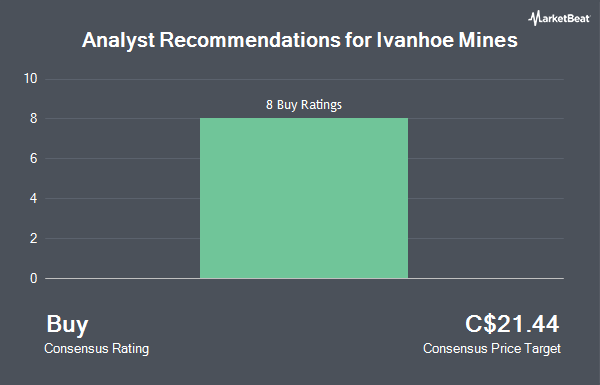 Shares of Ivanhoe Mines (TSE:IVN) opened at 2.42 on Friday. Ivanhoe Mines has a 52 week low of $0.53 and a 52 week high of $2.54. The stock has a market cap of $1.89 billion and a price-to-earnings ratio of 2.67. The stock's 50 day moving average price is $2.30 and its 200 day moving average price is $1.67.
COPYRIGHT VIOLATION WARNING: This article was first reported by Daily Political and is the propert of of Daily Political. If you are reading this article on another website, it was stolen and reposted in violation of U.S. & international trademark and copyright law. The correct version of this article can be accessed at http://www.dailypolitical.com/2016/11/29/ivanhoe-mines-ltd-ivn-earns-speculative-buy-rating-from-canaccord-genuity.html.
Ivanhoe Mines Company Profile
Ivanhoe Mines Ltd. is a mineral exploration and development company. The Company focuses on exploration within the Central African Copperbelt and the Bushveld Complex. It has four segments: the Platreef property, the Kamoa property and joint venture, the Kipushi property and treasury. The segments are engaged in the exploration and development of mineral properties in South Africa, the Democratic Republic of Congo (DRC) and the restoration of a mine in the DRC, respectively.
Receive News & Ratings for Ivanhoe Mines Ltd Daily - Enter your email address below to receive a concise daily summary of the latest news and analysts' ratings for Ivanhoe Mines Ltd and related companies with MarketBeat.com's FREE daily email newsletter.