Pzena Investment Management, Inc. (PZN) Issues Quarterly Earnings Results, Misses Expectations By $0.01 EPS
Pzena Investment Management, Inc. (NYSE:PZN) announced its quarterly earnings results on Tuesday. The asset manager reported $0.12 earnings per share (EPS) for the quarter, missing analysts' consensus estimates of $0.13 by $0.01. The business had revenue of $32 million for the quarter, compared to the consensus estimate of $30 million. Pzena Investment Management had a net margin of 14.93% and a return on equity of 13.43%. The firm's quarterly revenue was up 24.0% compared to the same quarter last year.
Shares of Pzena Investment Management (NYSE:PZN) traded down 4.41% on Tuesday, hitting $10.40. The stock had a trading volume of 49,010 shares. The company's 50 day moving average price is $9.70 and its 200-day moving average price is $9.61. Pzena Investment Management has a 12 month low of $7.06 and a 12 month high of $11.85. The company has a market cap of $180.60 million, a P/E ratio of 18.09 and a beta of 2.07.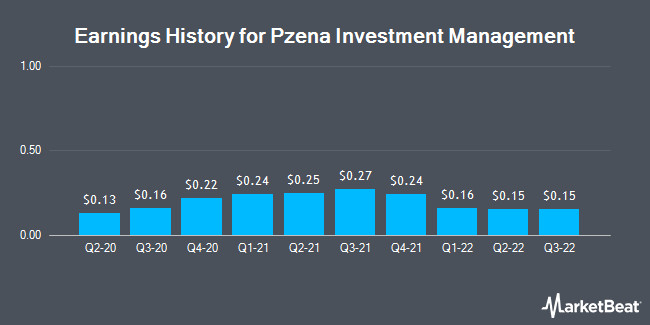 A number of brokerages have recently issued reports on PZN. Zacks Investment Research raised Pzena Investment Management from a "hold" rating to a "buy" rating and set a $12.00 price target on the stock in a report on Friday. JPMorgan Chase & Co. reaffirmed a "neutral" rating on shares of Pzena Investment Management in a report on Thursday, January 12th.
COPYRIGHT VIOLATION NOTICE: This piece was originally published by Daily Political and is owned by of Daily Political. If you are viewing this piece on another website, it was stolen and republished in violation of United States and international trademark and copyright law. The legal version of this piece can be accessed at https://www.dailypolitical.com/2017/04/18/pzena-investment-management-inc-pzn-issues-quarterly-earnings-results-misses-expectations-by-0-01-eps.html.
About Pzena Investment Management
Pzena Investment Management, Inc is a holding company. The Company is the sole managing member of Pzena Investment Management, LLC. Pzena Investment Management, LLC is an investment management company. The Company also serves as the general partner of Pzena Investment Management, LP. The Company offers institutional investment products to public and corporate pension funds, endowments, foundations and certain commingled vehicles geared toward institutional investors.
Receive News & Ratings for Pzena Investment Management Inc. Daily - Enter your email address below to receive a concise daily summary of the latest news and analysts' ratings for Pzena Investment Management Inc. and related companies with MarketBeat.com's FREE daily email newsletter.