Genuine Parts Company (NYSE:GPC) Updates FY17 Earnings Guidance
Genuine Parts Company (NYSE:GPC) issued an update on its FY17 earnings guidance on Thursday morning. The company provided earnings per share guidance of $4.70-4.75 for the period, compared to the Thomson Reuters consensus earnings per share estimate of $4.79. The company issued revenue guidance of $15.8-15.96 billion, compared to the consensus revenue estimate of $15.90 billion.
Shares of Genuine Parts Company (NYSE GPC) opened at 82.71 on Friday. The firm has a market capitalization of $12.19 billion, a P/E ratio of 17.90 and a beta of 1.07. Genuine Parts Company has a 52-week low of $80.86 and a 52-week high of $105.18. The stock's 50 day moving average is $89.76 and its 200-day moving average is $93.19.
Genuine Parts (NYSE:GPC) last posted its earnings results on Thursday, July 20th. The specialty retailer reported $1.29 EPS for the quarter, missing the consensus estimate of $1.31 by $0.02. The firm had revenue of $4.10 billion during the quarter, compared to the consensus estimate of $4.05 billion. Genuine Parts had a return on equity of 21.11% and a net margin of 4.37%. Genuine Parts's revenue for the quarter was up 5.1% on a year-over-year basis. During the same quarter last year, the company posted $1.28 EPS. On average, equities analysts forecast that Genuine Parts Company will post $4.78 earnings per share for the current fiscal year.
The business also recently declared a quarterly dividend, which was paid on Monday, July 3rd. Stockholders of record on Friday, June 9th were paid a $0.675 dividend. This represents a $2.70 dividend on an annualized basis and a dividend yield of 3.26%. The ex-dividend date of this dividend was Wednesday, June 7th. Genuine Parts's dividend payout ratio is currently 58.32%.
A number of analysts have recently weighed in on the stock. BidaskClub raised shares of Genuine Parts from a sell rating to a hold rating in a research note on Wednesday, June 14th. Goldman Sachs Group, Inc. (The) reaffirmed a neutral rating and issued a $104.00 price target (up from $98.00) on shares of Genuine Parts in a research note on Saturday, April 22nd. Zacks Investment Research lowered shares of Genuine Parts from a hold rating to a sell rating in a research note on Friday, April 21st. Royal Bank Of Canada upped their price target on shares of Genuine Parts from $94.00 to $96.00 and gave the stock a sector perform rating in a research note on Thursday, April 20th. Finally, Jefferies Group LLC reaffirmed a hold rating and issued a $95.00 price target on shares of Genuine Parts in a research note on Tuesday, April 18th. Three analysts have rated the stock with a sell rating, five have assigned a hold rating and two have assigned a buy rating to the company. Genuine Parts has a consensus rating of Hold and an average price target of $97.86.
ILLEGAL ACTIVITY WARNING: This article was first reported by Daily Political and is owned by of Daily Political. If you are accessing this article on another publication, it was illegally copied and republished in violation of international copyright and trademark law. The original version of this article can be accessed at https://www.dailypolitical.com/2017/07/22/genuine-parts-company-nysegpc-updates-fy17-earnings-guidance.html.
Genuine Parts Company Profile
Genuine Parts Company is a service organization engaged in the distribution of automotive replacement parts, industrial replacement parts, office products and electrical/electronic materials. The Company's segments include Automotive, Industrial, Office Products Group, Electrical/Electronic Materials and Other.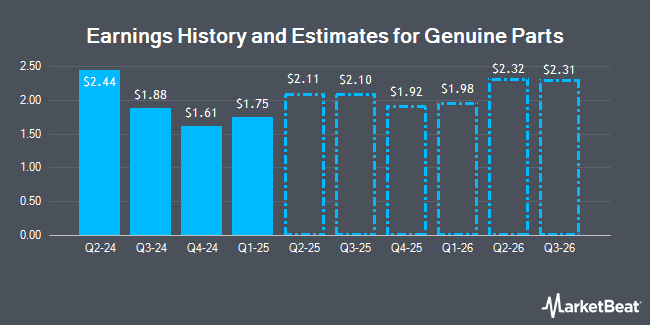 Receive News & Ratings for Genuine Parts Company Daily - Enter your email address below to receive a concise daily summary of the latest news and analysts' ratings for Genuine Parts Company and related companies with MarketBeat.com's FREE daily email newsletter.