UNITIL Corporation (NYSE:UTL) Set to Announce Earnings on Thursday
UNITIL Corporation (NYSE:UTL) will release its earnings data before the market opens on Thursday, July 27th. Analysts expect UNITIL Corporation to post earnings of $0.21 per share for the quarter.
UNITIL Corporation (NYSE:UTL) last released its earnings results on Thursday, April 27th. The utilities provider reported $0.88 earnings per share (EPS) for the quarter, beating the Zacks' consensus estimate of $0.86 by $0.02. UNITIL Corporation had a net margin of 7.49% and a return on equity of 9.78%. The company had revenue of $126 million for the quarter, compared to the consensus estimate of $131.90 million. During the same quarter in the previous year, the company earned $0.78 EPS. On average, analysts expect UNITIL Corporation to post $2.09 EPS for the current fiscal year and $2.2 EPS for the next fiscal year.
UNITIL Corporation (NYSE:UTL) opened at 51.29 on Tuesday. The company's 50 day moving average is $48.97 and its 200-day moving average is $46.57. The firm has a market cap of $723.60 million, a P/E ratio of 25.13 and a beta of 0.20. UNITIL Corporation has a 52-week low of $37.31 and a 52-week high of $51.57.
Separately, Zacks Investment Research raised UNITIL Corporation from a "hold" rating to a "buy" rating and set a $54.00 price target for the company in a research note on Tuesday, May 2nd.
COPYRIGHT VIOLATION NOTICE: This piece was first reported by Daily Political and is the sole property of of Daily Political. If you are viewing this piece on another site, it was illegally stolen and reposted in violation of U.S. & international trademark & copyright laws. The legal version of this piece can be viewed at https://www.dailypolitical.com/2017/07/25/unitil-corporation-nyseutl-set-to-announce-earnings-on-thursday.html.
UNITIL Corporation Company Profile
Unitil Corporation is a public utility holding company. The Company's principal business is the local distribution of electricity in the southeastern seacoast and state capital regions of New Hampshire and the greater Fitchburg area of north central Massachusetts and the local distribution of natural gas in southeastern New Hampshire, portions of southern Maine to the Lewiston-Auburn area and in the greater Fitchburg area of north central Massachusetts.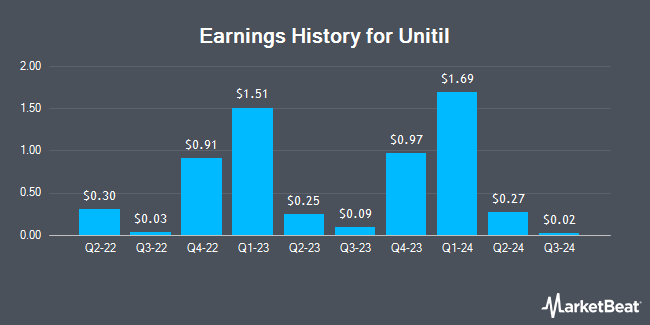 Receive News & Ratings for UNITIL Corporation Daily - Enter your email address below to receive a concise daily summary of the latest news and analysts' ratings for UNITIL Corporation and related companies with MarketBeat.com's FREE daily email newsletter.