Alleghany Corporation (Y) Issues Quarterly Earnings Results
Alleghany Corporation (NYSE:Y) posted its earnings results on Thursday. The insurance provider reported $6.37 earnings per share (EPS) for the quarter, missing the consensus estimate of $8.10 by $1.73, Bloomberg Earnings reports. The business had revenue of $1.55 billion for the quarter. Alleghany Corporation had a return on equity of 5.53% and a net margin of 7.30%. The firm's revenue was down 1.8% compared to the same quarter last year. During the same period last year, the business posted $4.99 earnings per share.
Shares of Alleghany Corporation (NYSE Y) opened at 607.15 on Friday. The stock has a 50 day moving average price of $601.20 and a 200-day moving average price of $608.97. Alleghany Corporation has a 52 week low of $510.52 and a 52 week high of $667.19. The firm has a market capitalization of $9.36 billion, a PE ratio of 20.74 and a beta of 0.92.
Several research firms have issued reports on Y. BidaskClub raised Alleghany Corporation from a "sell" rating to a "hold" rating in a research note on Tuesday, June 13th. Credit Suisse Group reissued a "hold" rating on shares of Alleghany Corporation in a research note on Tuesday, July 11th. Finally, Zacks Investment Research cut Alleghany Corporation from a "hold" rating to a "sell" rating in a research note on Thursday, July 27th.
COPYRIGHT VIOLATION NOTICE: This story was first posted by Daily Political and is owned by of Daily Political. If you are viewing this story on another site, it was stolen and republished in violation of U.S. and international trademark and copyright legislation. The original version of this story can be read at https://www.dailypolitical.com/2017/08/03/alleghany-corporation-nysey-announces-quarterly-earnings-results.html.
In other Alleghany Corporation news, Director William K. Lavin sold 321 shares of the stock in a transaction on Tuesday, May 9th. The stock was sold at an average price of $582.50, for a total transaction of $186,982.50. Following the transaction, the director now owns 2,499 shares of the company's stock, valued at approximately $1,455,667.50. The sale was disclosed in a filing with the SEC, which is available at the SEC website. Corporate insiders own 4.04% of the company's stock.
Alleghany Corporation Company Profile
Alleghany Corporation is an insurance holding company. The Company, through its subsidiary Alleghany Insurance Holdings LLC (AIHL) and its subsidiaries, is engaged in the property and casualty insurance business. AIHL's insurance operations are conducted by its subsidiaries RSUI Group, Inc (RSUI), CapSpecialty, Inc (CapSpecialty) and Pacific Compensation Corporation (PacificComp).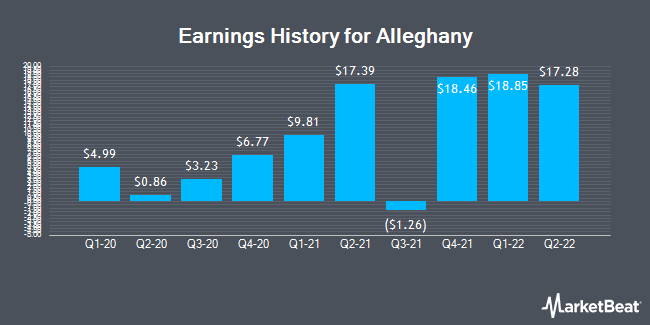 Receive News & Ratings for Alleghany Corporation Daily - Enter your email address below to receive a concise daily summary of the latest news and analysts' ratings for Alleghany Corporation and related companies with MarketBeat.com's FREE daily email newsletter.