NEXT plc (LON:NXT) Given "Hold" Rating at Peel Hunt
Peel Hunt reiterated their hold rating on shares of NEXT plc (LON:NXT) in a report released on Thursday morning. They currently have a GBX 4,200 ($55.40) price objective on the stock.
A number of other analysts also recently issued reports on NXT. Canaccord Genuity downgraded NEXT plc to a sell rating and cut their target price for the stock from GBX 4,400 ($58.04) to GBX 3,714 ($48.99) in a research note on Friday, April 7th. HSBC Holdings plc reaffirmed a reduce rating and issued a GBX 3,530 ($46.56) target price on shares of NEXT plc in a research note on Monday, April 24th. Jefferies Group LLC downgraded NEXT plc to an underperform rating and set a GBX 3,500 ($46.17) target price for the company. in a research note on Wednesday, April 26th. Deutsche Bank AG reaffirmed a hold rating on shares of NEXT plc in a research note on Thursday, April 27th. Finally, J P Morgan Chase & Co reaffirmed a neutral rating and issued a GBX 4,580 ($60.41) target price on shares of NEXT plc in a research note on Tuesday, May 2nd. Six analysts have rated the stock with a sell rating, thirteen have assigned a hold rating and five have issued a buy rating to the company's stock. NEXT plc currently has a consensus rating of Hold and an average target price of GBX 4,496.91 ($59.32).
NEXT plc (NXT) traded down 0.18% on Thursday, reaching GBX 4393.00. 726,166 shares of the company's stock were exchanged. The firm has a 50 day moving average price of GBX 3,887.10 and a 200 day moving average price of GBX 4,049.51. NEXT plc has a one year low of GBX 3,565.00 and a one year high of GBX 5,705.00. The firm's market cap is GBX 6.27 billion.
COPYRIGHT VIOLATION WARNING: This news story was first posted by Daily Political and is the sole property of of Daily Political. If you are viewing this news story on another domain, it was illegally stolen and reposted in violation of US and international copyright and trademark legislation. The correct version of this news story can be accessed at https://www.dailypolitical.com/2017/08/04/next-plc-lonnxt-given-hold-rating-at-peel-hunt.html.
In other news, insider Michael J. Roney bought 9,061 shares of the stock in a transaction that occurred on Thursday, August 3rd. The stock was bought at an average cost of GBX 4,386 ($57.86) per share, for a total transaction of £397,415.46 ($524,225.64).
NEXT plc Company Profile
NEXT plc is a United Kingdom-based retailer offering clothing, footwear, accessories and home products. The Company's segments include NEXT Retail, a chain of over 500 stores in the United Kingdom and Eire; NEXT Directory, an online and catalogue shopping business with over four million active customers and international Websites serving approximately 70 countries; NEXT International Retail, with approximately 200 mainly franchised stores; NEXT Sourcing, which designs and sources NEXT branded products; Lipsy, which designs and sells Lipsy branded younger women's fashion products, and Property Management, which holds properties and property leases which are sub-let to other segments and external parties.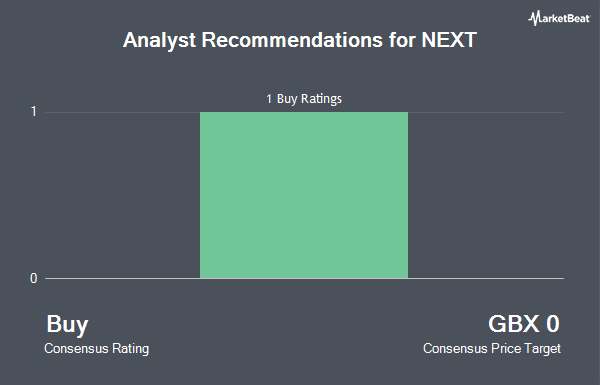 Receive News & Ratings for NEXT plc Daily - Enter your email address below to receive a concise daily summary of the latest news and analysts' ratings for NEXT plc and related companies with MarketBeat.com's FREE daily email newsletter.