CenterPoint Energy, Inc. (NYSE:CNP) Updates FY17 Earnings Guidance
CenterPoint Energy, Inc. (NYSE:CNP) updated its FY17 earnings guidance on Thursday. The company provided earnings per share guidance of $1.25-1.33 for the period, compared to the Thomson Reuters consensus earnings per share estimate of $1.31.
Several research firms have recently weighed in on CNP. Zacks Investment Research cut CenterPoint Energy from a buy rating to a hold rating in a research report on Friday, June 2nd. BidaskClub raised CenterPoint Energy from a sell rating to a hold rating in a research report on Monday, July 24th. Deutsche Bank AG upped their price objective on CenterPoint Energy from $27.00 to $28.00 and gave the company a hold rating in a research note on Tuesday, April 11th. Finally, J P Morgan Chase & Co began coverage on CenterPoint Energy in a research note on Thursday, June 29th. They issued a neutral rating and a $29.00 price objective on the stock. One investment analyst has rated the stock with a sell rating, nine have issued a hold rating and one has assigned a buy rating to the stock. CenterPoint Energy currently has a consensus rating of Hold and a consensus price target of $27.33.
Shares of CenterPoint Energy, Inc. (CNP) opened at 28.54 on Friday. The company has a market capitalization of $12.30 billion, a price-to-earnings ratio of 26.43 and a beta of 0.64. The company has a 50-day moving average price of $27.92 and a 200-day moving average price of $27.54. CenterPoint Energy, Inc. has a 12 month low of $21.83 and a 12 month high of $29.08.
CenterPoint Energy (NYSE:CNP) last released its quarterly earnings results on Thursday, August 3rd. The utilities provider reported $0.29 earnings per share (EPS) for the quarter, topping the Zacks' consensus estimate of $0.22 by $0.07. CenterPoint Energy had a net margin of 6.86% and a return on equity of 16.45%. The company had revenue of $2.14 billion during the quarter, compared to the consensus estimate of $1.98 billion. During the same period in the prior year, the firm earned $0.17 earnings per share. CenterPoint Energy's revenue was up 36.1% on a year-over-year basis. On average, equities analysts anticipate that CenterPoint Energy, Inc. will post $1.31 EPS for the current year.
The firm also recently announced a quarterly dividend, which will be paid on Friday, September 8th. Shareholders of record on Wednesday, August 16th will be paid a dividend of $0.2675 per share. This represents a $1.07 dividend on an annualized basis and a dividend yield of 3.75%. The ex-dividend date of this dividend is Monday, August 14th. CenterPoint Energy's dividend payout ratio is 76.98%.
In other news, CEO Scott M. Prochazka sold 1,000 shares of the stock in a transaction that occurred on Monday, July 3rd. The shares were sold at an average price of $27.66, for a total transaction of $27,660.00. The transaction was disclosed in a legal filing with the SEC, which is accessible through this hyperlink. In the last quarter, insiders have sold 3,000 shares of company stock worth $84,560. Corporate insiders own 0.20% of the company's stock.
ILLEGAL ACTIVITY WARNING: This article was first published by Daily Political and is the sole property of of Daily Political. If you are viewing this article on another domain, it was stolen and reposted in violation of United States & international copyright and trademark law. The original version of this article can be read at https://www.dailypolitical.com/2017/08/05/centerpoint-energy-inc-nysecnp-updates-fy17-earnings-guidance.html.
About CenterPoint Energy
CenterPoint Energy, Inc is a public utility holding company. The Company, through its subsidiaries, owns and operates electric transmission and distribution facilities, and natural gas distribution facilities. The Electric Transmission & Distribution segment provides electric transmission and distribution services to retail electric providers.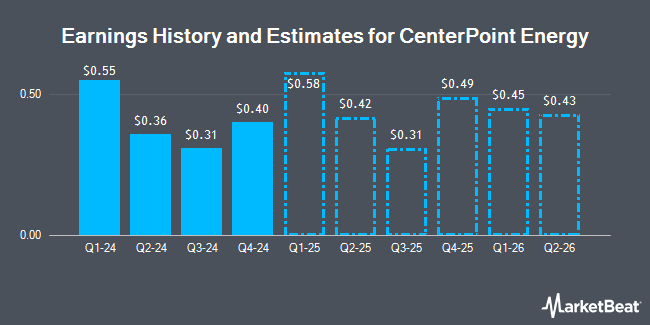 Receive News & Ratings for CenterPoint Energy Inc. Daily - Enter your email address below to receive a concise daily summary of the latest news and analysts' ratings for CenterPoint Energy Inc. and related companies with MarketBeat.com's FREE daily email newsletter.