T2 Biosystems, Inc. (TTOO) Announces Earnings Results, Misses Estimates By $0.01 EPS
T2 Biosystems, Inc. (NASDAQ:TTOO) posted its earnings results on Thursday. The medical equipment provider reported ($0.50) earnings per share (EPS) for the quarter, missing analysts' consensus estimates of ($0.49) by $0.01, Bloomberg Earnings reports. T2 Biosystems had a negative net margin of 1,425.02% and a negative return on equity of 161.43%. The firm had revenue of $0.96 million during the quarter, compared to analyst estimates of $0.79 million.
T2 Biosystems (NASDAQ TTOO) traded up 15.50% during trading on Friday, hitting $2.98. 295,083 shares of the stock were exchanged. The stock's market capitalization is $91.17 million. The firm has a 50-day moving average of $3.11 and a 200-day moving average of $4.47. T2 Biosystems has a 52 week low of $2.50 and a 52 week high of $8.12.
A number of research analysts recently issued reports on the stock. Zacks Investment Research lowered shares of T2 Biosystems from a "hold" rating to a "sell" rating in a research note on Wednesday, July 5th. BTIG Research upgraded shares of T2 Biosystems from a "sell" rating to a "neutral" rating and set a $4.00 price target on the stock in a research report on Monday, May 8th. Finally, Cantor Fitzgerald decreased their price target on shares of T2 Biosystems from $7.00 to $6.00 and set an "overweight" rating on the stock in a research report on Wednesday, May 3rd. Two investment analysts have rated the stock with a sell rating, two have assigned a hold rating and three have issued a buy rating to the company's stock. T2 Biosystems has a consensus rating of "Hold" and an average target price of $6.75.
In related news, Director David B. Elsbree acquired 10,000 shares of the firm's stock in a transaction on Tuesday, June 6th. The shares were purchased at an average cost of $3.50 per share, for a total transaction of $35,000.00. Following the completion of the acquisition, the director now directly owns 50,000 shares in the company, valued at $175,000. The purchase was disclosed in a filing with the SEC, which is available at this link. Over the last quarter, insiders acquired 20,000 shares of company stock worth $70,330. Corporate insiders own 38.70% of the company's stock.
TRADEMARK VIOLATION WARNING: This report was first reported by Daily Political and is owned by of Daily Political. If you are accessing this report on another domain, it was stolen and reposted in violation of U.S. & international copyright legislation. The legal version of this report can be read at https://www.dailypolitical.com/2017/08/05/t2-biosystems-inc-ttoo-announces-earnings-results-misses-estimates-by-0-01-eps.html.
T2 Biosystems Company Profile
T2 Biosystems, Inc is an in vitro diagnostics company engaged in developing a technology platform offering an alternative to diagnostic methodologies. The Company's T2 Magnetic Resonance platform (T2MR) enables detection of pathogens, biomarkers and other abnormalities in a range of unpurified patient sample types, including whole blood, plasma, serum, saliva, sputum and urine, and can detect cellular targets at limits of detection as one colony forming unit per milliliter (CFU/mL).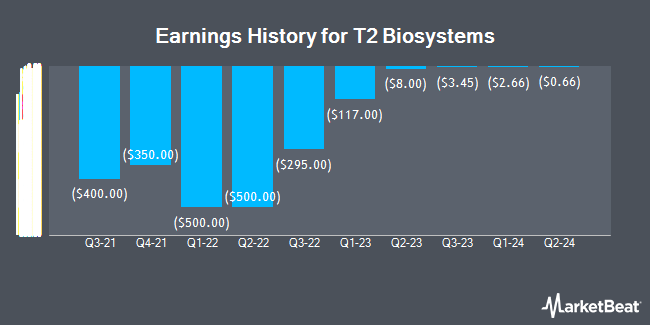 Receive News & Ratings for T2 Biosystems Inc. Daily - Enter your email address below to receive a concise daily summary of the latest news and analysts' ratings for T2 Biosystems Inc. and related companies with MarketBeat.com's FREE daily email newsletter.