Brokerages Set Magna International Inc. (TSE:MG) Price Target at $56.90
Magna International Inc. (TSE:MG) (NYSE:MGA) has been assigned an average recommendation of "Buy" from the six brokerages that are covering the firm, Marketbeat reports. Three investment analysts have rated the stock with a hold rating and three have assigned a buy rating to the company. The average 1 year price objective among analysts that have issued a report on the stock in the last year is C$56.90.
Separately, BMO Capital Markets set a C$47.00 price objective on shares of Magna International and gave the company a "market perform" rating in a research note on Friday, May 12th.
TRADEMARK VIOLATION NOTICE: This story was first posted by Daily Political and is the property of of Daily Political. If you are reading this story on another website, it was illegally stolen and republished in violation of U.S. and international copyright & trademark legislation. The original version of this story can be viewed at https://www.dailypolitical.com/2017/08/07/brokerages-set-magna-international-inc-tsemg-price-target-at-56-90.html.
Shares of Magna International (TSE:MG) traded up 1.94% during mid-day trading on Friday, reaching $60.30. The company had a trading volume of 601,014 shares. Magna International has a 52-week low of $48.60 and a 52-week high of $62.94. The company's 50-day moving average is $59.90 and its 200 day moving average is $58.34. The stock has a market capitalization of $22.93 billion and a P/E ratio of 11.02.
In other news, insider Francis Seguin bought 12,000 shares of the company's stock in a transaction that occurred on Friday, June 16th. The shares were purchased at an average price of C$57.21 per share, for a total transaction of C$686,520.00. Also, insider Seetarama Swamy Kotagiri sold 10,000 shares of Magna International stock in a transaction on Thursday, June 1st. The stock was sold at an average price of C$45.85, for a total transaction of C$458,500.00. Insiders sold a total of 64,000 shares of company stock worth $3,745,260 in the last quarter.
Magna International Company Profile
Magna International Inc (Magna) is a global automotive supplier. The Company's segments are North America, Europe, Asia, Rest of World, and Corporate and Other. The Company's product capabilities include producing body, chassis, exterior, seating, powertrain, electronic, active driver assistance, vision, closure, and roof systems and modules, as well as vehicle engineering and contract manufacturing.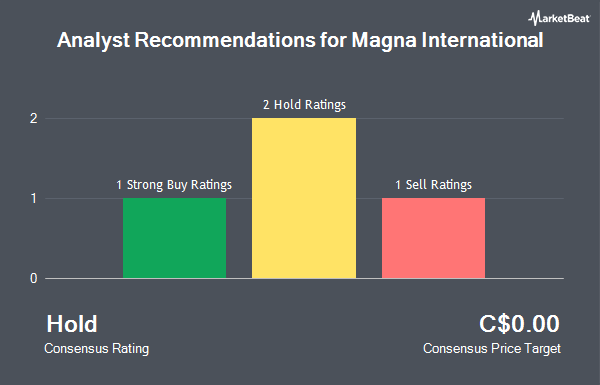 Receive News & Ratings for Magna International Inc. Daily - Enter your email address below to receive a concise daily summary of the latest news and analysts' ratings for Magna International Inc. and related companies with MarketBeat.com's FREE daily email newsletter.