Community West Bancshares (NASDAQ:CWBC) Insider Sells $331,274.24 in Stock
Community West Bancshares (NASDAQ:CWBC) insider Charles G. Baltuskonis sold 32,351 shares of the stock in a transaction that occurred on Thursday, August 3rd. The shares were sold at an average price of $10.24, for a total transaction of $331,274.24. Following the completion of the transaction, the insider now directly owns 41,495 shares of the company's stock, valued at approximately $424,908.80. The sale was disclosed in a filing with the SEC, which is available through this hyperlink.
Community West Bancshares (CWBC) opened at 10.278 on Monday. The company has a market cap of $83.86 million, a P/E ratio of 15.363 and a beta of 0.53. Community West Bancshares has a 52 week low of $7.71 and a 52 week high of $10.65. The company has a 50-day moving average of $10.17 and a 200 day moving average of $10.12.
Community West Bancshares (NASDAQ:CWBC) last issued its quarterly earnings data on Friday, July 28th. The financial services provider reported $0.18 EPS for the quarter. The company had revenue of $8.73 million during the quarter. Community West Bancshares had a net margin of 15.37% and a return on equity of 8.77%.
The business also recently declared a quarterly dividend, which will be paid on Thursday, August 31st. Shareholders of record on Monday, August 14th will be paid a $0.04 dividend. The ex-dividend date of this dividend is Thursday, August 10th. This represents a $0.16 dividend on an annualized basis and a yield of 1.56%. Community West Bancshares's dividend payout ratio is presently 23.53%.
TRADEMARK VIOLATION WARNING: "Community West Bancshares (NASDAQ:CWBC) Insider Sells $331,274.24 in Stock" was published by Daily Political and is owned by of Daily Political. If you are viewing this piece of content on another publication, it was copied illegally and republished in violation of United States & international trademark and copyright law. The original version of this piece of content can be read at https://www.dailypolitical.com/2017/08/07/community-west-bancshares-nasdaqcwbc-insider-sells-331274-24-in-stock.html.
Community West Bancshares Company Profile
Community West Bancshares is a bank holding company. The Company provides full-service banking through its subsidiary, Community West Bank, N.A. (the Bank). Through the Bank, the Company provides a range of financial products and services to customers, including lending and deposit products. The Company focuses on professionals, small to mid-sized businesses and individual households.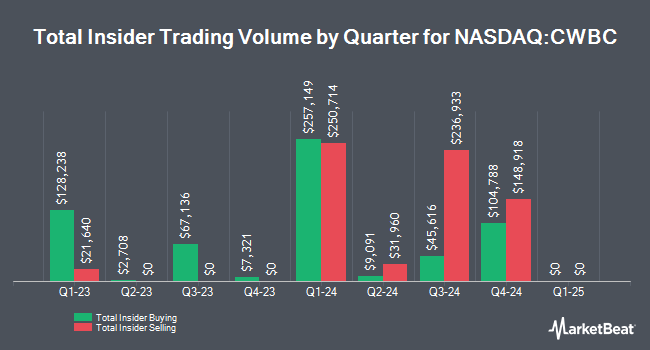 Receive News & Ratings for Community West Bancshares Daily - Enter your email address below to receive a concise daily summary of the latest news and analysts' ratings for Community West Bancshares and related companies with MarketBeat.com's FREE daily email newsletter.