CAE Inc (CAE) Scheduled to Post Quarterly Earnings on Thursday
CAE Inc (NYSE:CAE) (TSE:CAE) is set to announce its earnings results before the market opens on Thursday, August 10th. Analysts expect the company to announce earnings of $0.19 per share for the quarter.
CAE (NYSE:CAE) (TSE:CAE) last released its quarterly earnings data on Wednesday, May 31st. The aerospace company reported $0.23 EPS for the quarter, topping analysts' consensus estimates of $0.22 by $0.01. The company had revenue of $734.70 million during the quarter, compared to the consensus estimate of $748.41 million. CAE had a net margin of 9.30% and a return on equity of 13.96%. The firm's revenue for the quarter was up 1.7% compared to the same quarter last year. During the same period last year, the firm earned $0.27 EPS. On average, analysts expect CAE to post $0.81 EPS for the current fiscal year and $0.89 EPS for the next fiscal year.
CAE Inc (NYSE:CAE) opened at 17.07 on Tuesday. CAE Inc has a 12-month low of $12.98 and a 12-month high of $17.88. The company has a market capitalization of $4.58 billion, a P/E ratio of 23.16 and a beta of 0.86. The stock's 50 day moving average is $17.13 and its 200-day moving average is $15.69.
COPYRIGHT VIOLATION WARNING: "CAE Inc (CAE) Scheduled to Post Quarterly Earnings on Thursday" was originally published by Daily Political and is the property of of Daily Political. If you are reading this news story on another publication, it was illegally copied and republished in violation of US & international copyright legislation. The correct version of this news story can be accessed at https://www.dailypolitical.com/2017/08/08/cae-inc-cae-scheduled-to-post-quarterly-earnings-on-thursday.html.
Several equities analysts recently commented on the stock. Zacks Investment Research upgraded shares of CAE from a "hold" rating to a "buy" rating and set a $19.00 price target on the stock in a research note on Tuesday, August 1st. BidaskClub downgraded shares of CAE from a "hold" rating to a "sell" rating in a research note on Monday, July 31st. Finally, TD Securities downgraded shares of CAE from a "buy" rating to a "hold" rating in a research note on Thursday, June 1st. One research analyst has rated the stock with a sell rating, six have issued a hold rating and three have given a buy rating to the stock. CAE has an average rating of "Hold" and an average target price of $19.14.
About CAE
CAE Inc provides training for the civil aviation, defense and security, and healthcare markets. The Company designs and integrates training solutions. It operates through three segments: Civil Aviation Training Solutions, Defense and Security, and Healthcare. The Company provides training solutions for flight, cabin, maintenance and ground personnel in commercial, business and helicopter aviation, a range of flight simulation training devices, as well as ab initio pilot training and crew sourcing services.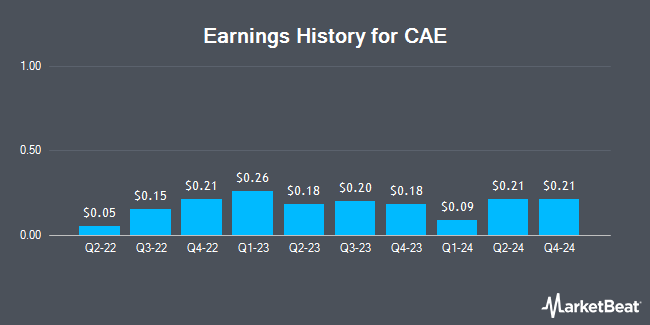 Receive News & Ratings for CAE Inc Daily - Enter your email address below to receive a concise daily summary of the latest news and analysts' ratings for CAE Inc and related companies with MarketBeat.com's FREE daily email newsletter.