Cargojet Inc (TSE:CJT) Receives Average Recommendation of "Buy" from Brokerages
Cargojet Inc (TSE:CJT) has earned an average recommendation of "Buy" from the six brokerages that are currently covering the firm, MarketBeat.com reports. Five research analysts have rated the stock with a buy rating. The average twelve-month target price among brokers that have issued ratings on the stock in the last year is C$55.60.
Separately, Raymond James Financial, Inc. cut their price objective on Cargojet from C$57.00 to C$55.00 and set an "outperform" rating for the company in a research report on Tuesday, May 16th.
In other Cargojet news, insider Paul David Rinaldo sold 5,903 shares of the business's stock in a transaction on Wednesday, June 28th. The shares were sold at an average price of C$46.75, for a total transaction of C$275,965.25.
Cargojet (TSE:CJT) traded up 0.66% during trading on Tuesday, reaching $50.71. The company's stock had a trading volume of 26,939 shares. Cargojet has a 52 week low of $33.35 and a 52 week high of $52.56. The firm has a market capitalization of $544.83 million and a P/E ratio of 905.54. The firm has a 50-day moving average price of $47.96 and a 200-day moving average price of $46.72.
TRADEMARK VIOLATION NOTICE: This story was posted by Daily Political and is the sole property of of Daily Political. If you are accessing this story on another publication, it was copied illegally and republished in violation of U.S. & international trademark & copyright legislation. The legal version of this story can be accessed at https://www.dailypolitical.com/2017/08/08/cargojet-inc-tsecjt-receives-average-recommendation-of-buy-from-brokerages.html.
Cargojet Company Profile
Cargojet Inc is a provider of time sensitive overnight air cargo services. The Company's cargo business comprises operating a domestic overnight air cargo co-load network between over 10 Canadian cities; providing aircraft to customers on an aircraft, crew, maintenance and insurance (ACMI) basis, operating between points in Canada, the United States and Europe; operating scheduled international routes for multiple cargo customers between the United States and Bermuda, and between Canada and Europe, and providing dedicated aircraft to customers on an adhoc charter basis operating between points in Canada, the United States and other international destinations.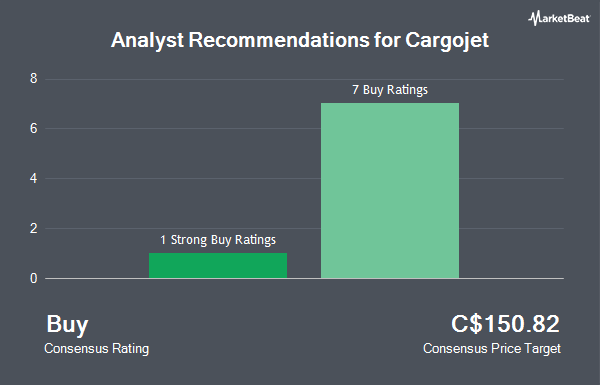 Receive News & Ratings for Cargojet Inc Daily - Enter your email address below to receive a concise daily summary of the latest news and analysts' ratings for Cargojet Inc and related companies with MarketBeat.com's FREE daily email newsletter.