Sypris Solutions, Inc. (SYPR) Scheduled to Post Earnings on Tuesday
Sypris Solutions, Inc. (NASDAQ:SYPR) is scheduled to issue its quarterly earnings data before the market opens on Tuesday, August 15th. Analysts expect the company to announce earnings of ($0.08) per share for the quarter.
Sypris Solutions (NASDAQ:SYPR) last posted its quarterly earnings results on Tuesday, May 16th. The auto parts company reported ($0.21) EPS for the quarter, missing the consensus estimate of ($0.18) by $0.03. The business had revenue of $18.19 million during the quarter. Sypris Solutions had a net margin of 9.43% and a negative return on equity of 119.55%. On average, analysts expect Sypris Solutions to post $-0.28 EPS for the current fiscal year and $0.01 EPS for the next fiscal year.
Shares of Sypris Solutions, Inc. (NASDAQ:SYPR) opened at 1.68 on Tuesday. Sypris Solutions, Inc. has a 12-month low of $0.80 and a 12-month high of $1.84. The stock has a market cap of $33.89 million, a PE ratio of 4.39 and a beta of 0.35. The firm has a 50-day moving average price of $1.67 and a 200 day moving average price of $1.23.
TRADEMARK VIOLATION NOTICE: This story was first reported by Daily Political and is the property of of Daily Political. If you are accessing this story on another publication, it was illegally copied and reposted in violation of U.S. & international trademark and copyright laws. The original version of this story can be viewed at https://www.dailypolitical.com/2017/08/08/sypris-solutions-inc-sypr-scheduled-to-post-earnings-on-tuesday.html.
Sypris Solutions Company Profile
Sypris Solutions, Inc (Sypris) is a provider of outsourced services and specialty products. The Company offers a range of manufacturing, engineering, design and other technical services. The Company operates through two segments: Sypris Technologies and Sypris Electronics. Sypris Technologies segment, which consists of Sypris Technologies, Inc and its subsidiaries, is engaged in the sale of goods and manufacturing services to customers in the market for truck components and assemblies and from the sale of products to the energy and chemical markets.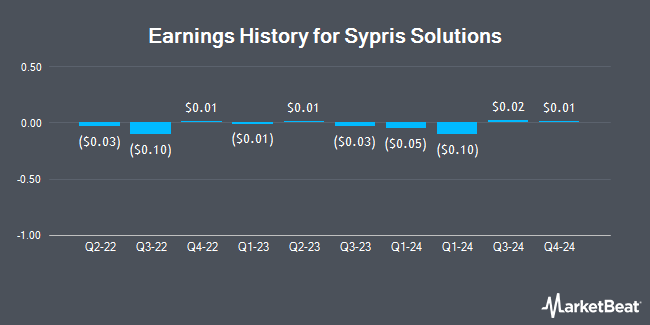 Receive News & Ratings for Sypris Solutions Inc. Daily - Enter your email address below to receive a concise daily summary of the latest news and analysts' ratings for Sypris Solutions Inc. and related companies with MarketBeat.com's FREE daily email newsletter.