Cormark Weighs in on 5N Plus Inc's Q3 2017 Earnings (TSE:VNP)
5N Plus Inc (TSE:VNP) – Cormark lifted their Q3 2017 earnings per share (EPS) estimates for 5N Plus in a research report issued on Thursday. Cormark analyst M. D. Whale now expects that the company will post earnings per share of $0.05 for the quarter, up from their prior forecast of $0.04. Cormark also issued estimates for 5N Plus' Q4 2017 earnings at $0.04 EPS.
Separately, National Bank Financial cut 5N Plus from an "outperform spec market weight" rating to a "sec perform spec market wgt" rating in a research report on Wednesday, May 17th.
TRADEMARK VIOLATION WARNING: "Cormark Weighs in on 5N Plus Inc's Q3 2017 Earnings (TSE:VNP)" was published by Daily Political and is the property of of Daily Political. If you are reading this piece on another website, it was illegally stolen and republished in violation of United States & international copyright & trademark legislation. The legal version of this piece can be accessed at https://www.dailypolitical.com/2017/08/09/cormark-weighs-in-on-5n-plus-incs-q3-2017-earnings-tsevnp.html.
5N Plus (VNP) opened at 3.44 on Monday. 5N Plus has a 52 week low of $1.38 and a 52 week high of $3.71. The company's 50-day moving average price is $3.14 and its 200 day moving average price is $2.38. The company has a market capitalization of $293.78 million and a PE ratio of 80.00.
In related news, Director Jean-Marie Bourassa purchased 19,900 shares of the stock in a transaction on Thursday, May 18th. The shares were purchased at an average cost of C$2.73 per share, for a total transaction of C$54,327.00. Also, insider Nicholas Audet sold 100,000 shares of the company's stock in a transaction on Wednesday, May 24th. The shares were sold at an average price of C$2.85, for a total value of C$285,000.00.
5N Plus Company Profile
5N Plus Inc produces and sells specialty metal and chemical products in the Americas, Europe, and Asia. It operates through two segments, Electronic Materials and Eco-Friendly Materials. The Electronic Materials segment manufactures and sells refined metals, compounds, and alloys, which are primarily used in various electronic applications, as well as provides recycling services.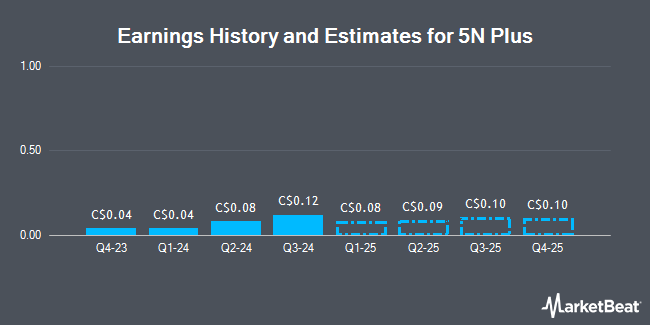 Receive News & Ratings for 5N Plus Inc Daily - Enter your email address below to receive a concise daily summary of the latest news and analysts' ratings for 5N Plus Inc and related companies with MarketBeat.com's FREE daily email newsletter.