FY2017 Earnings Forecast for Surge Energy Inc Issued By Cormark (SGY)
Surge Energy Inc (TSE:SGY) – Cormark boosted their FY2017 earnings per share (EPS) estimates for Surge Energy in a report issued on Thursday. Cormark analyst G. Ursu now expects that the company will post earnings per share of $0.10 for the year, up from their prior estimate of $0.09.
TRADEMARK VIOLATION NOTICE: This report was published by Daily Political and is the sole property of of Daily Political. If you are viewing this report on another publication, it was stolen and reposted in violation of U.S. and international trademark and copyright legislation. The legal version of this report can be read at https://www.dailypolitical.com/2017/08/09/fy2017-earnings-forecast-for-surge-energy-inc-issued-by-cormark-sgy.html.
SGY has been the subject of several other reports. Scotiabank upped their price objective on Surge Energy from C$3.15 to C$3.25 and gave the company a "sector perform" rating in a research note on Thursday, April 20th. TD Securities reissued a "buy" rating and set a C$3.75 target price on shares of Surge Energy in a research note on Thursday, April 20th. Finally, BMO Capital Markets increased their target price on Surge Energy from C$3.00 to C$3.25 and gave the stock an "outperform" rating in a research note on Thursday, April 20th. Four investment analysts have rated the stock with a hold rating and five have assigned a buy rating to the company. The company currently has an average rating of "Buy" and an average target price of C$3.38.
Shares of Surge Energy (TSE SGY) opened at 2.16 on Monday. The stock's market capitalization is $487.65 million. Surge Energy has a 1-year low of $1.91 and a 1-year high of $3.45. The firm has a 50-day moving average price of $2.08 and a 200-day moving average price of $2.47.
The firm also recently disclosed a monthly dividend, which will be paid on Tuesday, August 15th. Stockholders of record on Monday, July 31st will be issued a dividend of $0.008 per share. This represents a $0.10 annualized dividend and a dividend yield of 4.44%. The ex-dividend date of this dividend is Thursday, July 27th.
Surge Energy Company Profile
Surge Energy Inc engages in the exploration, development, and production of oil and gas properties in western Canada. The company holds working interests in the Valhalla/Wembley and Nipisi properties located in northwestern Alberta; the Windfall property located in western Alberta; and the Nevis property located to the east of Red Deer, Alberta covering an area of approximately 122,113 net developed acres.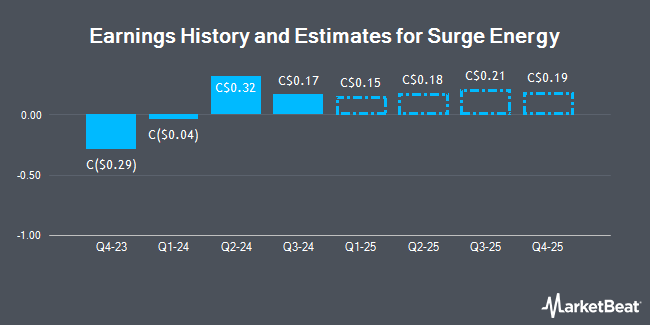 Receive News & Ratings for Surge Energy Inc Daily - Enter your email address below to receive a concise daily summary of the latest news and analysts' ratings for Surge Energy Inc and related companies with MarketBeat.com's FREE daily email newsletter.