Maiden Holdings, Ltd. (MHLD) Releases Quarterly Earnings Results, Misses Expectations By $0.43 EPS
Maiden Holdings, Ltd. (NASDAQ:MHLD) posted its earnings results on Tuesday. The insurance provider reported ($0.14) earnings per share (EPS) for the quarter, missing the consensus estimate of $0.29 by $0.43, Morningstar.com reports. Maiden Holdings had a return on equity of 3.41% and a net margin of 1.37%. The firm had revenue of $753.18 million for the quarter, compared to analysts' expectations of $740.30 million.
Maiden Holdings (NASDAQ:MHLD) traded down 26.777% on Wednesday, hitting $7.725. 2,132,550 shares of the company traded hands. The stock's 50-day moving average is $11.10 and its 200 day moving average is $13.29. The stock has a market cap of $668.62 million, a PE ratio of 128.750 and a beta of 1.18. Maiden Holdings has a 12 month low of $7.20 and a 12 month high of $18.95.
The business also recently declared a quarterly dividend, which will be paid on Monday, October 16th. Investors of record on Monday, October 2nd will be given a dividend of $0.15 per share. The ex-dividend date is Friday, September 29th. This represents a $0.60 annualized dividend and a dividend yield of 7.77%. Maiden Holdings's dividend payout ratio (DPR) is presently 400.00%.
COPYRIGHT VIOLATION WARNING: This news story was first published by Daily Political and is the property of of Daily Political. If you are viewing this news story on another publication, it was illegally copied and reposted in violation of United States and international copyright and trademark law. The legal version of this news story can be viewed at https://www.dailypolitical.com/2017/08/09/maiden-holdings-ltd-mhld-releases-quarterly-earnings-results-misses-expectations-by-0-43-eps.html.
Several research firms have recently issued reports on MHLD. BidaskClub lowered shares of Maiden Holdings from a "sell" rating to a "strong sell" rating in a research note on Monday, July 31st. FBR & Co restated a "hold" rating and set a $13.00 price target on shares of Maiden Holdings in a research report on Tuesday, June 27th. Keefe, Bruyette & Woods restated a "buy" rating and set a $19.00 price target on shares of Maiden Holdings in a research report on Friday, June 9th. Finally, Compass Point upgraded shares of Maiden Holdings from a "neutral" rating to a "buy" rating and set a $15.00 price target for the company in a research report on Wednesday, May 10th. Two investment analysts have rated the stock with a sell rating and three have given a buy rating to the company. The stock presently has a consensus rating of "Hold" and an average price target of $16.25.
Maiden Holdings Company Profile
Maiden Holdings, Ltd. (Maiden) is a holding company. The Company focuses on serving the needs of regional and specialty insurers in the United States, Europe and select other global markets by providing reinsurance solutions designed to support their capital needs. It operates through two segments: Diversified Reinsurance and AmTrust Reinsurance.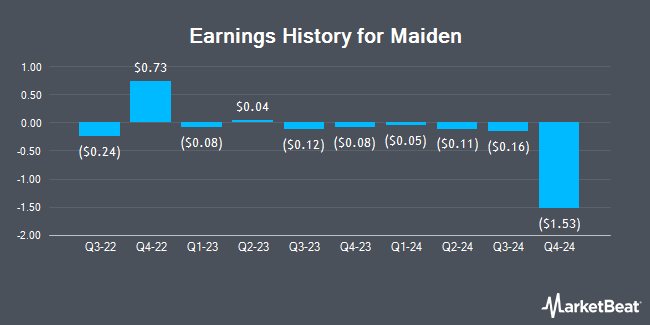 Receive News & Ratings for Maiden Holdings Ltd. Daily - Enter your email address below to receive a concise daily summary of the latest news and analysts' ratings for Maiden Holdings Ltd. and related companies with MarketBeat.com's FREE daily email newsletter.