Weyco Group, Inc. (NASDAQ:WEYS) Declares $0.22 Quarterly Dividend
Weyco Group, Inc. (NASDAQ:WEYS) announced a quarterly dividend on Wednesday, August 9th, Wall Street Journal reports. Investors of record on Wednesday, August 30th will be given a dividend of 0.22 per share by the textile maker on Friday, September 29th. This represents a $0.88 dividend on an annualized basis and a yield of 3.22%. The ex-dividend date is Monday, August 28th.
Weyco Group (WEYS) traded up 0.07% during midday trading on Wednesday, reaching $27.32. 8,228 shares of the company were exchanged. The firm has a market cap of $284.21 million, a P/E ratio of 17.94 and a beta of 0.69. Weyco Group has a one year low of $23.75 and a one year high of $32.30. The firm's 50-day moving average is $27.79 and its 200-day moving average is $27.74.
Weyco Group (NASDAQ:WEYS) last issued its quarterly earnings data on Tuesday, August 8th. The textile maker reported $0.12 earnings per share for the quarter, topping the Zacks' consensus estimate of $0.11 by $0.01. Weyco Group had a net margin of 3.06% and a return on equity of 4.42%. The business had revenue of $57.45 million during the quarter. On average, equities analysts expect that Weyco Group will post $1.36 EPS for the current fiscal year.
A number of analysts have recently weighed in on WEYS shares. BidaskClub cut shares of Weyco Group from a "sell" rating to a "strong sell" rating in a research note on Friday, July 28th. TheStreet cut shares of Weyco Group from a "b" rating to a "c+" rating in a research note on Thursday, August 3rd. Zacks Investment Research upgraded shares of Weyco Group from a "strong sell" rating to a "hold" rating in a research note on Wednesday, July 5th. Finally, B. Riley restated a "neutral" rating and issued a $26.00 price objective on shares of Weyco Group in a research note on Tuesday, May 2nd.
TRADEMARK VIOLATION WARNING: This piece was originally posted by Daily Political and is owned by of Daily Political. If you are accessing this piece on another domain, it was copied illegally and reposted in violation of United States & international copyright laws. The correct version of this piece can be read at https://www.dailypolitical.com/2017/08/09/weyco-group-inc-nasdaqweys-declares-0-22-quarterly-dividend.html.
About Weyco Group
Weyco Group, Inc is engaged in the design and distribution of footwear. The Company designs and markets footwear for men, women and children. The Company operates through two segments: the North American wholesale segment (wholesale) and the North American retail segment (retail). The Company also has other wholesale and retail businesses overseas, which include its businesses in Australia, South Africa and Asia Pacific (collectively known as Florsheim Australia), and its wholesale and retail businesses in Europe (Florsheim Europe).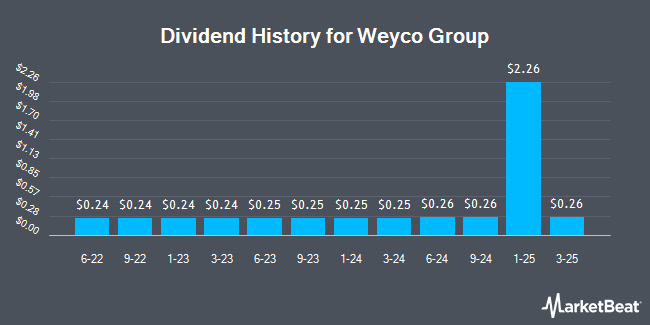 Receive News & Ratings for Weyco Group Inc. Daily - Enter your email address below to receive a concise daily summary of the latest news and analysts' ratings for Weyco Group Inc. and related companies with MarketBeat.com's FREE daily email newsletter.