FY2017 Earnings Forecast for Sandstorm Gold Ltd Issued By Cormark (TSE:SSL)
Sandstorm Gold Ltd (TSE:SSL) – Investment analysts at Cormark lifted their FY2017 earnings estimates for Sandstorm Gold in a report released on Tuesday. Cormark analyst R. Gray now expects that the company will post earnings per share of $0.02 for the year, up from their previous forecast of $0.01. Cormark also issued estimates for Sandstorm Gold's Q4 2017 earnings at $0.00 EPS.
COPYRIGHT VIOLATION WARNING: "FY2017 Earnings Forecast for Sandstorm Gold Ltd Issued By Cormark (TSE:SSL)" was published by Daily Political and is owned by of Daily Political. If you are reading this story on another site, it was illegally copied and republished in violation of U.S. & international trademark and copyright legislation. The correct version of this story can be viewed at https://www.dailypolitical.com/2017/08/10/fy2017-earnings-forecast-for-sandstorm-gold-ltd-issued-by-cormark-tsessl.html.
Several other research analysts have also recently issued reports on the company. TD Securities reissued a "buy" rating and issued a C$8.50 price objective on shares of Sandstorm Gold in a research note on Thursday, April 27th. CIBC dropped their price objective on Sandstorm Gold from C$6.50 to C$6.00 in a research note on Wednesday, May 10th. Finally, Royal Bank Of Canada reissued an "outperform" rating and issued a C$7.50 price objective on shares of Sandstorm Gold in a research note on Monday, July 10th. Two research analysts have rated the stock with a hold rating and three have assigned a buy rating to the stock. The stock currently has a consensus rating of "Buy" and a consensus price target of C$7.25.
Sandstorm Gold (TSE:SSL) opened at 5.37 on Thursday. The stock has a 50 day moving average price of $5.10 and a 200-day moving average price of $5.38. Sandstorm Gold has a 1-year low of $4.29 and a 1-year high of $8.73. The stock has a market cap of $816.21 million and a PE ratio of 45.90.
In related news, Director Nolan Allan Watson bought 20,000 shares of the company's stock in a transaction on Friday, July 7th. The shares were acquired at an average price of C$4.98 per share, with a total value of C$99,600.00. Insiders have acquired a total of 23,500 shares of company stock worth $118,125 in the last ninety days.
Sandstorm Gold Company Profile
Sandstorm Gold Ltd is a Canada-based company engaged in providing financing to mining companies. The Company focuses on acquiring gold and other metal purchase agreements (Gold Streams or Silver Streams), and royalties from companies that have advanced stage development projects or operating mines. The Company operates in the segments of Bachelor Lake, Black Fox, Chapada Santa Elena, Yamana Silver Stream, Chapada, Diavik Mine, Other Royalties, Other and Corporate.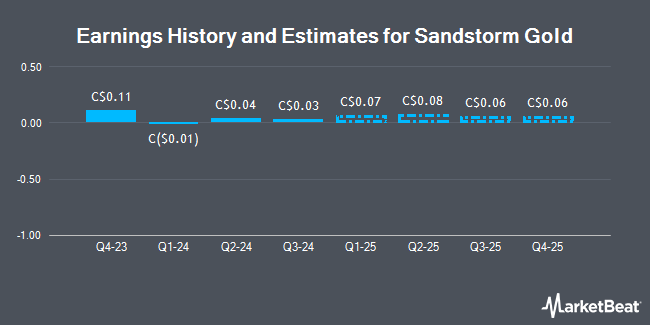 Receive News & Ratings for Sandstorm Gold Ltd Daily - Enter your email address below to receive a concise daily summary of the latest news and analysts' ratings for Sandstorm Gold Ltd and related companies with MarketBeat.com's FREE daily email newsletter.