Townsquare Media, Inc. (TSQ) Announces Quarterly Earnings Results
Townsquare Media, Inc. (NYSE:TSQ) announced its earnings results on Wednesday. The company reported $0.21 earnings per share for the quarter, missing the Thomson Reuters' consensus estimate of $0.22 by $0.01, Bloomberg Earnings reports. The company had revenue of $140.66 million for the quarter, compared to analysts' expectations of $141.49 million. Townsquare Media had a return on equity of 6.80% and a net margin of 4.20%.
Townsquare Media (TSQ) traded down 4.14% on Thursday, hitting $9.96. 44,759 shares of the stock traded hands. The firm's 50-day moving average price is $10.59 and its 200-day moving average price is $10.93. Townsquare Media has a 12-month low of $8.12 and a 12-month high of $13.01. The stock has a market cap of $183.94 million, a price-to-earnings ratio of 12.75 and a beta of 1.73.
Several brokerages have weighed in on TSQ. Zacks Investment Research raised shares of Townsquare Media from a "hold" rating to a "buy" rating and set a $12.00 target price for the company in a research note on Wednesday, July 19th. Royal Bank Of Canada set a $13.00 target price on shares of Townsquare Media and gave the stock a "buy" rating in a research note on Tuesday, July 18th.
TRADEMARK VIOLATION NOTICE: This news story was originally posted by Daily Political and is owned by of Daily Political. If you are viewing this news story on another website, it was illegally copied and republished in violation of US & international trademark & copyright laws. The correct version of this news story can be accessed at https://www.dailypolitical.com/2017/08/10/townsquare-media-inc-tsq-announces-quarterly-earnings-results.html.
About Townsquare Media
Townsquare Media, Inc is a media, entertainment and digital marketing solutions company principally focused on small and mid-sized markets across the United States. The Company operates through two segments: Local Advertising and Live Events. The Company's Local Advertising segment offers broadcast, digital and mobile advertising within its local markets.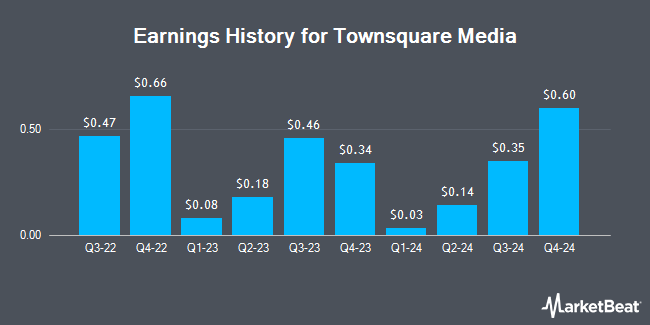 Receive News & Ratings for Townsquare Media Inc. Daily - Enter your email address below to receive a concise daily summary of the latest news and analysts' ratings for Townsquare Media Inc. and related companies with MarketBeat.com's FREE daily email newsletter.