Tricon Capital Group Inc (TSE:TCN) PT Lowered to C$13.00
Tricon Capital Group Inc (TSE:TCN) had its price objective lowered by equities research analysts at TD Securities from C$13.50 to C$13.00 in a report issued on Friday. The firm currently has a "buy" rating on the stock. TD Securities' price objective indicates a potential upside of 19.27% from the stock's previous close.
A number of other analysts also recently weighed in on the stock. Royal Bank Of Canada reissued an "outperform" rating on shares of Tricon Capital Group in a report on Wednesday, June 28th. Raymond James Financial, Inc. increased their price objective on shares of Tricon Capital Group from C$13.00 to C$14.00 and gave the company a "strong-buy" rating in a research note on Tuesday, May 16th. Four investment analysts have rated the stock with a buy rating and one has given a strong buy rating to the company's stock. The company presently has a consensus rating of "Buy" and an average price target of C$13.07.
Tricon Capital Group (TSE:TCN) traded up 0.55% during midday trading on Friday, reaching $10.96. 379,901 shares of the company traded hands. The stock has a market capitalization of $1.38 billion and a price-to-earnings ratio of 81.19. The firm has a 50 day moving average of $11.05 and a 200-day moving average of $10.89. Tricon Capital Group has a 12 month low of $8.26 and a 12 month high of $12.05.
TRADEMARK VIOLATION NOTICE: This news story was first posted by Daily Political and is owned by of Daily Political. If you are accessing this news story on another website, it was stolen and reposted in violation of U.S. & international trademark and copyright legislation. The correct version of this news story can be read at https://www.dailypolitical.com/2017/08/11/tricon-capital-group-inc-tsetcn-pt-lowered-to-c13-00.html.
In other news, Director Ira Gluskin bought 62,300 shares of the company's stock in a transaction that occurred on Tuesday, May 16th. The stock was acquired at an average price of C$11.23 per share, for a total transaction of C$699,629.00. Also, insider Wissam Francis sold 3,305 shares of the stock in a transaction dated Thursday, July 13th. The stock was sold at an average price of C$11.31, for a total transaction of C$37,379.55.
About Tricon Capital Group
Tricon Capital Group Inc is a Canada-based company, which is a principal investor and asset manager focused on the residential real estate industry in North America. The Company operates through five segments: Private Funds and Advisory (PF&A), Principal Investing in Tricon Housing Partners (THP), Tricon American Homes (TAH), Tricon Lifestyle Communities (TLC) and Tricon Luxury Residences (TLR).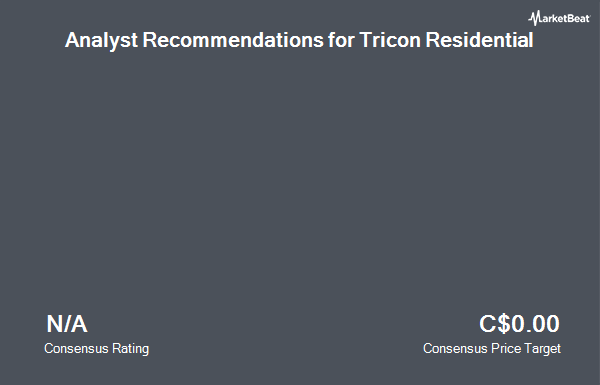 Receive News & Ratings for Tricon Capital Group Inc Daily - Enter your email address below to receive a concise daily summary of the latest news and analysts' ratings for Tricon Capital Group Inc and related companies with MarketBeat.com's FREE daily email newsletter.