First Capital, Inc. (FCAP) To Go Ex-Dividend on September 14th
First Capital, Inc. (NASDAQ:FCAP) declared a quarterly dividend on Wednesday, August 23rd, Zacks reports. Investors of record on Friday, September 15th will be paid a dividend of 0.22 per share by the savings and loans company on Friday, September 29th. This represents a $0.88 dividend on an annualized basis and a yield of 2.41%. The ex-dividend date of this dividend is Thursday, September 14th. This is an increase from First Capital's previous quarterly dividend of $0.21.
First Capital (NASDAQ:FCAP) opened at 36.57 on Friday. First Capital has a 52 week low of $26.58 and a 52 week high of $36.99. The company has a market cap of $122.03 million, a PE ratio of 16.93 and a beta of 0.04. The company has a 50-day moving average of $31.89 and a 200-day moving average of $31.98.
First Capital (NASDAQ:FCAP) last posted its earnings results on Tuesday, July 25th. The savings and loans company reported $0.66 earnings per share (EPS) for the quarter. First Capital had a return on equity of 9.29% and a net margin of 22.72%. The company had revenue of $8.09 million for the quarter.
In related news, Director Dana L. Huber bought 1,000 shares of the business's stock in a transaction on Wednesday, August 30th. The shares were bought at an average price of $33.54 per share, for a total transaction of $33,540.00. Following the completion of the purchase, the director now directly owns 5,200 shares of the company's stock, valued at $174,408. The transaction was disclosed in a filing with the Securities & Exchange Commission, which is available through this link. 4.51% of the stock is owned by insiders.
COPYRIGHT VIOLATION NOTICE: This report was published by Daily Political and is the sole property of of Daily Political. If you are viewing this report on another website, it was copied illegally and reposted in violation of US and international trademark & copyright legislation. The original version of this report can be viewed at https://www.dailypolitical.com/2017/09/09/first-capital-inc-fcap-to-go-ex-dividend-on-september-14th.html.
First Capital Company Profile
First Capital, Inc (First Capital) is the savings and loan holding company of First Harrison Bank (the Bank). The Bank is a federally-chartered savings bank, which provides various banking services to individuals and business customers through a network of over 17 locations in Indiana and Kentucky. The Bank offers real estate mortgage loans.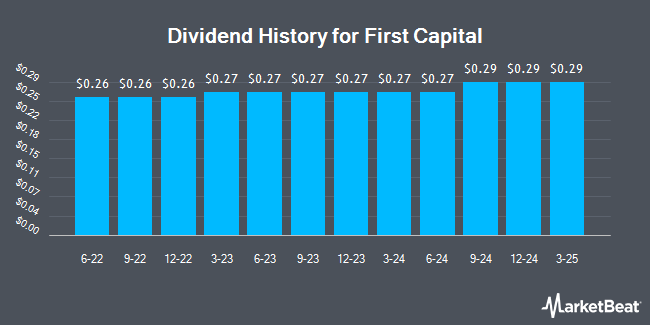 Receive News & Ratings for First Capital Inc. Daily - Enter your email address below to receive a concise daily summary of the latest news and analysts' ratings for First Capital Inc. and related companies with MarketBeat.com's FREE daily email newsletter.