Hooker Furniture Corporation (HOFT) To Go Ex-Dividend on September 14th
Hooker Furniture Corporation (NASDAQ:HOFT) announced a quarterly dividend on Wednesday, August 30th, Wall Street Journal reports. Shareholders of record on Friday, September 15th will be paid a dividend of 0.12 per share on Friday, September 29th. This represents a $0.48 annualized dividend and a dividend yield of 1.10%. The ex-dividend date of this dividend is Thursday, September 14th.
Shares of Hooker Furniture Corporation (NASDAQ HOFT) traded down 1.04% during midday trading on Wednesday, hitting $43.00. 22,502 shares of the company's stock traded hands. Hooker Furniture Corporation has a 1-year low of $24.06 and a 1-year high of $46.60. The firm has a market capitalization of $497.55 million, a price-to-earnings ratio of 16.67 and a beta of 0.62. The company has a 50 day moving average price of $42.01 and a 200 day moving average price of $39.80.
Hooker Furniture Corporation (NASDAQ:HOFT) last announced its quarterly earnings results on Thursday, September 7th. The company reported $0.67 earnings per share (EPS) for the quarter, beating the consensus estimate of $0.61 by $0.06. Hooker Furniture Corporation had a net margin of 4.94% and a return on equity of 15.28%. The firm had revenue of $156.31 million during the quarter, compared to the consensus estimate of $148.56 million. During the same period last year, the firm posted $0.46 EPS. The firm's quarterly revenue was up 14.8% on a year-over-year basis. Equities analysts anticipate that Hooker Furniture Corporation will post $2.78 earnings per share for the current year.
WARNING: This news story was published by Daily Political and is the sole property of of Daily Political. If you are reading this news story on another site, it was stolen and republished in violation of US and international trademark and copyright law. The legal version of this news story can be viewed at https://www.dailypolitical.com/2017/09/13/hooker-furniture-corporation-hoft-to-go-ex-dividend-on-september-14th.html.
Separately, BidaskClub raised shares of Hooker Furniture Corporation from a "hold" rating to a "buy" rating in a research note on Thursday, July 13th.
In other Hooker Furniture Corporation news, Director E Larry Ryder sold 5,000 shares of the business's stock in a transaction dated Monday, September 11th. The shares were sold at an average price of $44.41, for a total value of $222,050.00. Following the completion of the transaction, the director now directly owns 20,780 shares of the company's stock, valued at $922,839.80. The sale was disclosed in a legal filing with the SEC, which is available at this hyperlink. Insiders own 2.90% of the company's stock.
Hooker Furniture Corporation Company Profile
Hooker Furniture Corporation is a home furnishings marketing, design and logistics company offering sourcing of residential casegoods and upholstery, as well as domestically-produced leather and fabric-upholstered furniture. The Company operates through three segments: casegoods furniture, upholstered furniture and all other.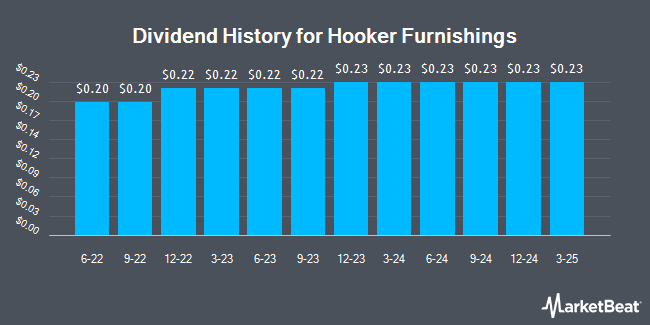 Receive News & Ratings for Hooker Furniture Corporation Daily - Enter your email address below to receive a concise daily summary of the latest news and analysts' ratings for Hooker Furniture Corporation and related companies with MarketBeat.com's FREE daily email newsletter.