AMEN Properties Inc. Declares Quarterly Dividend of $10.00 (AMEN)
AMEN Properties Inc. (OTCMKTS:AMEN) announced a quarterly dividend on Wednesday, September 13th, Zacks reports. Stockholders of record on Friday, September 22nd will be paid a dividend of 10.00 per share by the technology company on Friday, September 29th. This represents a $40.00 annualized dividend and a dividend yield of 8.30%. The ex-dividend date of this dividend is Thursday, September 21st.
Shares of AMEN Properties (AMEN) opened at 482.00 on Thursday. AMEN Properties has a 52 week low of $410.00 and a 52 week high of $540.00. The stock has a 50 day moving average of $470.76 and a 200 day moving average of $478.33. The stock has a market cap of $24.58 million, a P/E ratio of 3.77 and a beta of -0.38.
TRADEMARK VIOLATION NOTICE: This story was originally published by Daily Political and is owned by of Daily Political. If you are viewing this story on another website, it was illegally copied and republished in violation of United States & international trademark & copyright law. The original version of this story can be viewed at https://www.dailypolitical.com/2017/09/14/amen-properties-inc-declares-quarterly-dividend-of-10-00-amen.html.
AMEN Properties Company Profile
AMEN Properties, Inc owns a portfolio of properties, including real estate and oil and gas interests. The Company has investments in real estate and SFF Royalty, LLC. The Company also holds interest in SFF Production, LLC. The Company holds interest in HPQ Acquisition, LLC (HPG), which is a real estate company that owns commercial properties located in Midland, Texas.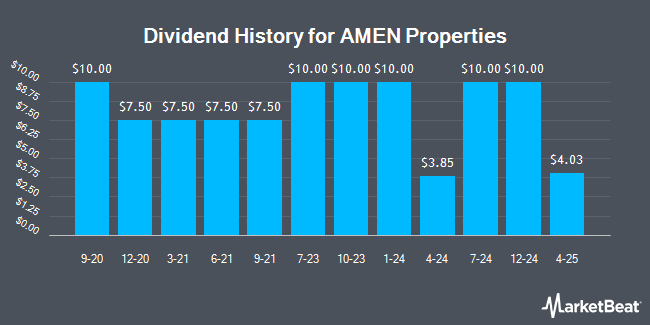 Receive News & Ratings for AMEN Properties Inc. Daily - Enter your email address below to receive a concise daily summary of the latest news and analysts' ratings for AMEN Properties Inc. and related companies with MarketBeat.com's FREE daily email newsletter.