Enquest Plc (ENQ) Stock Rating Reaffirmed by Macquarie
Enquest Plc (LON:ENQ)'s stock had its "underperform" rating reaffirmed by analysts at Macquarie in a research report issued on Tuesday. They currently have a GBX 7 ($0.09) price target on the oil and gas development company's stock. Macquarie's price target would indicate a potential downside of 73.08% from the company's current price.
A number of other equities research analysts have also commented on the company. J P Morgan Chase & Co decreased their price objective on Enquest Plc from GBX 50 ($0.65) to GBX 41 ($0.53) and set a "neutral" rating for the company in a research report on Friday, September 8th. Jefferies Group LLC downgraded Enquest Plc to a "hold" rating and cut their price target for the stock from GBX 64 ($0.83) to GBX 30 ($0.39) in a research note on Tuesday, August 29th. Barclays PLC reaffirmed an "underweight" rating and set a GBX 35 ($0.45) price target on shares of Enquest Plc in a research note on Friday, July 21st. Finally, GMP Securities reaffirmed a "speculative buy" rating on shares of Enquest Plc in a research note on Thursday, May 25th. Three analysts have rated the stock with a sell rating, five have assigned a hold rating and one has issued a buy rating to the stock. Enquest Plc currently has an average rating of "Hold" and an average target price of GBX 35.25 ($0.46).
Shares of Enquest Plc (LON:ENQ) opened at 26.00 on Tuesday. The firm's market cap is GBX 292.94 million. The company's 50-day moving average is GBX 29.62 and its 200-day moving average is GBX 35.61. Enquest Plc has a 52-week low of GBX 22.50 and a 52-week high of GBX 56.00.
COPYRIGHT VIOLATION NOTICE: "Enquest Plc (ENQ) Stock Rating Reaffirmed by Macquarie" was first published by Daily Political and is owned by of Daily Political. If you are reading this piece of content on another publication, it was illegally copied and reposted in violation of U.S. and international copyright & trademark laws. The legal version of this piece of content can be accessed at https://www.dailypolitical.com/2017/09/14/enquest-plc-enq-stock-rating-reaffirmed-by-macquarie.html.
In related news, insider Jonathan Swinney sold 121,102 shares of the firm's stock in a transaction that occurred on Tuesday, September 12th. The stock was sold at an average price of GBX 25 ($0.32), for a total value of £30,275.50 ($39,100.48).
About Enquest Plc
EnQuest PLC is a United Kingdom-based oil and gas development and production company. The Company's principal activities are the exploration for, and extraction and production of, hydrocarbons in the United Kingdom Continental Shelf and Malaysia. The Company focuses on maturing assets and undeveloped oil fields.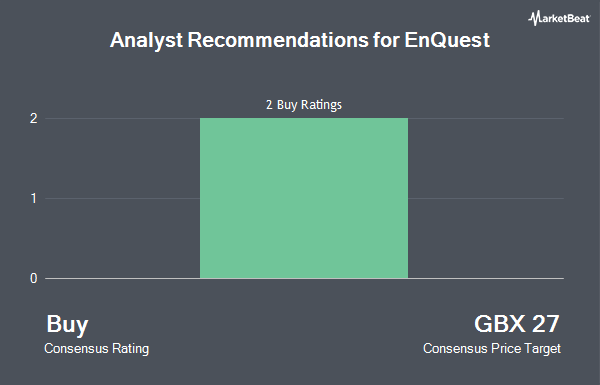 Receive News & Ratings for Enquest Plc Daily - Enter your email address below to receive a concise daily summary of the latest news and analysts' ratings for Enquest Plc and related companies with MarketBeat.com's FREE daily email newsletter.