Brokerages Expect Ideal Power Inc. (IPWR) to Announce -$0.21 EPS
Equities analysts predict that Ideal Power Inc. (NASDAQ:IPWR) will announce earnings of ($0.21) per share for the current quarter, according to Zacks Investment Research. Six analysts have issued estimates for Ideal Power's earnings. The lowest EPS estimate is ($0.22) and the highest is ($0.20). Ideal Power reported earnings per share of ($0.31) in the same quarter last year, which suggests a positive year-over-year growth rate of 32.3%. The company is expected to report its next quarterly earnings report on Thursday, November 9th.
On average, analysts expect that Ideal Power will report full-year earnings of ($0.89) per share for the current fiscal year, with EPS estimates ranging from ($0.91) to ($0.87). For the next year, analysts expect that the company will report earnings of ($0.59) per share, with EPS estimates ranging from ($0.71) to ($0.50). Zacks Investment Research's EPS calculations are an average based on a survey of research analysts that cover Ideal Power.
Ideal Power (NASDAQ:IPWR) last released its quarterly earnings data on Thursday, August 10th. The industrial products company reported ($0.23) earnings per share for the quarter, missing the consensus estimate of ($0.20) by ($0.03). Ideal Power had a negative return on equity of 95.52% and a negative net margin of 895.37%. The business had revenue of $0.25 million during the quarter, compared to analysts' expectations of $0.51 million.
A number of analysts recently issued reports on the company. HC Wainwright set a $4.00 price target on Ideal Power and gave the company a "buy" rating in a report on Friday, August 11th. ValuEngine lowered Ideal Power from a "sell" rating to a "strong sell" rating in a report on Friday, September 1st. Finally, Zacks Investment Research upgraded Ideal Power from a "sell" rating to a "hold" rating in a report on Tuesday, August 15th. One equities research analyst has rated the stock with a sell rating, two have assigned a hold rating and three have issued a buy rating to the company's stock. Ideal Power presently has a consensus rating of "Hold" and an average target price of $5.10.
An institutional investor recently bought a new position in Ideal Power stock. King Luther Capital Management Corp bought a new stake in Ideal Power Inc. (NASDAQ:IPWR) during the 1st quarter, according to its most recent Form 13F filing with the Securities and Exchange Commission. The institutional investor bought 59,100 shares of the industrial products company's stock, valued at approximately $192,000. King Luther Capital Management Corp owned 0.42% of Ideal Power at the end of the most recent reporting period. Institutional investors own 17.01% of the company's stock.
Ideal Power (NASDAQ:IPWR) traded down 4.72% during midday trading on Friday, reaching $2.42. The company's stock had a trading volume of 124,309 shares. The firm's market cap is $33.87 million. The company's 50-day moving average is $2.49 and its 200 day moving average is $2.54. Ideal Power has a 12-month low of $1.91 and a 12-month high of $5.60.
WARNING: This story was first posted by Daily Political and is the property of of Daily Political. If you are accessing this story on another publication, it was copied illegally and reposted in violation of international copyright laws. The legal version of this story can be viewed at https://www.dailypolitical.com/2017/09/15/brokerages-expect-ideal-power-inc-ipwr-to-announce-0-21-eps.html.
Ideal Power Company Profile
Ideal Power Inc (Ideal Power) designs, markets and sells electrical power conversion products using its Power Packet Switching Architecture (PPSA) technology. The Company's PPSA is a power conversion technology that utilizes standardized hardware with application specific embedded software. It sells products to systems integrators for integration into their system, which enable end users to manage their electricity consumption by reducing demand charges or fossil fuel consumption, integrating renewable energy sources and form their own microgrid.
Get a free copy of the Zacks research report on Ideal Power (IPWR)
For more information about research offerings from Zacks Investment Research, visit Zacks.com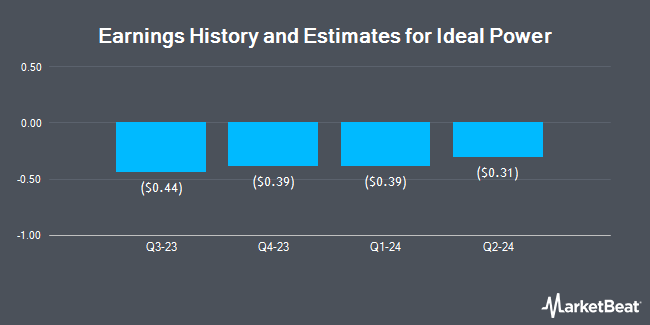 Receive News & Ratings for Ideal Power Inc. Daily - Enter your email address below to receive a concise daily summary of the latest news and analysts' ratings for Ideal Power Inc. and related companies with MarketBeat.com's FREE daily email newsletter.