Keybank National Association OH Has $277,000 Position in NUVEEN OHIO QUA (NUO)
Keybank National Association OH reduced its position in shares of NUVEEN OHIO QUA (NYSE:NUO) by 11.4% in the 2nd quarter, according to its most recent disclosure with the Securities & Exchange Commission. The institutional investor owned 18,497 shares of the asset manager's stock after selling 2,390 shares during the period. Keybank National Association OH owned approximately 0.10% of NUVEEN OHIO QUA worth $277,000 as of its most recent SEC filing.
Separately, Stratos Wealth Partners LTD. purchased a new position in NUVEEN OHIO QUA during the second quarter worth about $153,000. 9.05% of the stock is owned by hedge funds and other institutional investors.
COPYRIGHT VIOLATION NOTICE: This news story was published by Daily Political and is the sole property of of Daily Political. If you are reading this news story on another domain, it was illegally copied and reposted in violation of US and international copyright & trademark legislation. The legal version of this news story can be viewed at https://www.dailypolitical.com/2017/09/15/keybank-national-association-oh-has-277000-position-in-nuveen-ohio-qua-nuo.html.
NUVEEN OHIO QUA (NUO) opened at 15.37 on Friday. The company's 50-day moving average is $15.22 and its 200 day moving average is $15.00. NUVEEN OHIO QUA has a 12-month low of $14.27 and a 12-month high of $16.82.
The company also recently announced a monthly dividend, which will be paid on Monday, October 2nd. Shareholders of record on Friday, September 15th will be paid a dividend of $0.0555 per share. This represents a $0.67 dividend on an annualized basis and a yield of 4.33%. The ex-dividend date is Thursday, September 14th.
NUVEEN OHIO QUA Profile
Nuveen Ohio Quality Municipal Income Fund, formerly Nuveen Ohio Quality Income Municipal Fund is a diversified, closed-end management investment company. The Fund's investment objective is to provide current income exempt from both regular federal and designated state income taxes by investing in a portfolio of municipal obligations issued by state and local government authorities within a single state or certain the United States territories.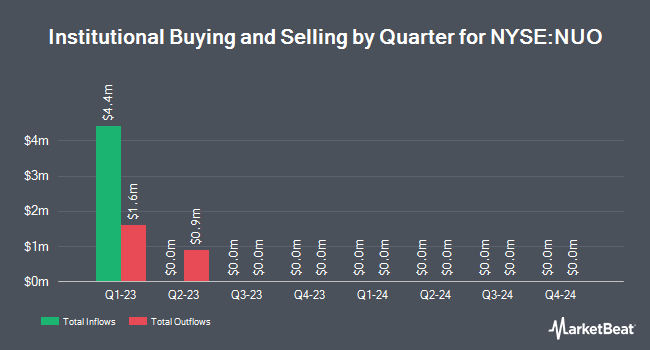 Receive News & Ratings for NUVEEN OHIO QUA Daily - Enter your email address below to receive a concise daily summary of the latest news and analysts' ratings for NUVEEN OHIO QUA and related companies with MarketBeat.com's FREE daily email newsletter.