Liberum Capital Reaffirms Hold Rating for Shaftesbury plc (SHB)
Shaftesbury plc (LON:SHB)'s stock had its "hold" rating reiterated by equities researchers at Liberum Capital in a research note issued on Monday. They currently have a GBX 1,025 ($13.82) price target on the real estate investment trust's stock. Liberum Capital's price target points to a potential upside of 1.28% from the stock's current price.
Several other research analysts have also issued reports on SHB. Goldman Sachs Group, Inc. (The) lowered shares of Shaftesbury plc to a "sell" rating and set a GBX 883 ($11.91) price target for the company. in a research note on Thursday, June 15th. Peel Hunt reiterated a "reduce" rating and issued a GBX 875 ($11.80) price target on shares of Shaftesbury plc in a research note on Monday, August 21st. Five research analysts have rated the stock with a sell rating, five have given a hold rating and two have issued a buy rating to the company's stock. The company has an average rating of "Hold" and an average price target of GBX 929.67 ($12.53).
Shaftesbury plc (LON:SHB) opened at 1012.00 on Monday. The stock's 50 day moving average is GBX 992.42 and its 200-day moving average is GBX 962.12. Shaftesbury plc has a one year low of GBX 861.00 and a one year high of GBX 1,036.00. The firm's market capitalization is GBX 2.82 billion.
COPYRIGHT VIOLATION WARNING: "Liberum Capital Reaffirms Hold Rating for Shaftesbury plc (SHB)" was first posted by Daily Political and is the sole property of of Daily Political. If you are viewing this report on another publication, it was illegally stolen and reposted in violation of international copyright legislation. The correct version of this report can be viewed at https://www.dailypolitical.com/2017/09/25/liberum-capital-reaffirms-hold-rating-for-shaftesbury-plc-shb.html.
Shaftesbury plc Company Profile
Shaftesbury PLC is a real estate investment trust. The Company's objective is to deliver long-term growth in rental income, capital values and shareholder returns. It focuses on retails, restaurants, cafes and leisure. It has approximately 590 shops, restaurants, cafes and bars. Its upper floors consist of over 406,000 square feet of office space and over 560 apartments.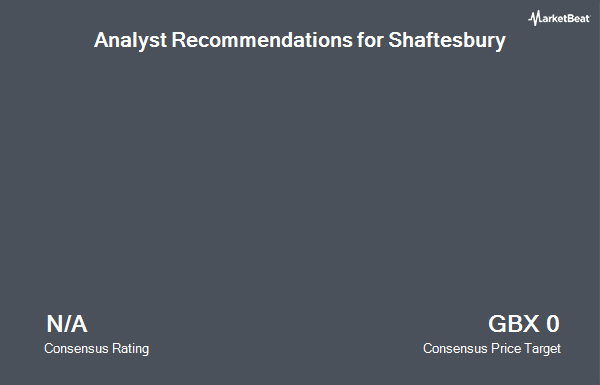 Receive News & Ratings for Shaftesbury plc Daily - Enter your email address below to receive a concise daily summary of the latest news and analysts' ratings for Shaftesbury plc and related companies with MarketBeat.com's FREE daily email newsletter.