ADTRAN, Inc. (ADTN) to Release Quarterly Earnings on Monday
ADTRAN, Inc. (NASDAQ:ADTN) will issue its quarterly earnings data after the market closes on Monday, October 16th. Analysts expect the company to announce earnings of $0.24 per share for the quarter.
ADTRAN (NASDAQ:ADTN) last issued its quarterly earnings results on Tuesday, July 18th. The communications equipment provider reported $0.30 earnings per share for the quarter, topping the Thomson Reuters' consensus estimate of $0.19 by $0.11. ADTRAN had a return on equity of 8.39% and a net margin of 5.68%. The firm had revenue of $184.67 million during the quarter, compared to the consensus estimate of $183.05 million. During the same period last year, the company earned $0.21 earnings per share. On average, analysts expect ADTRAN to post $0.85 EPS for the current fiscal year and $1.02 EPS for the next fiscal year.
Shares of ADTRAN, Inc. (ADTN) opened at 24.20 on Friday. The firm has a 50-day moving average price of $22.97 and a 200-day moving average price of $21.30. The firm has a market cap of $1.16 billion, a P/E ratio of 30.21 and a beta of 0.75. ADTRAN, Inc. has a 12-month low of $17.55 and a 12-month high of $24.60.
COPYRIGHT VIOLATION NOTICE: This piece was originally published by Daily Political and is the sole property of of Daily Political. If you are accessing this piece on another site, it was illegally copied and reposted in violation of U.S. & international trademark and copyright legislation. The correct version of this piece can be viewed at https://www.dailypolitical.com/2017/10/13/adtran-inc-adtn-to-release-quarterly-earnings-on-monday.html.
In other news, SVP Michael Foliano sold 24,000 shares of the business's stock in a transaction on Tuesday, July 25th. The stock was sold at an average price of $23.77, for a total transaction of $570,480.00. Following the sale, the senior vice president now directly owns 5,417 shares of the company's stock, valued at $128,762.09. The sale was disclosed in a legal filing with the Securities & Exchange Commission, which can be accessed through the SEC website. 2.96% of the stock is owned by insiders.
Several analysts have recently weighed in on the company. Zacks Investment Research lowered ADTRAN from a "buy" rating to a "hold" rating in a report on Tuesday, September 19th. BidaskClub upgraded ADTRAN from a "strong sell" rating to a "sell" rating in a report on Saturday, August 26th. Northland Securities restated a "buy" rating and issued a $24.00 price objective on shares of ADTRAN in a report on Tuesday, July 4th. Needham & Company LLC upped their price objective on ADTRAN from $24.00 to $25.00 and gave the company a "buy" rating in a report on Thursday, July 20th. Finally, Cowen and Company restated a "market perform" rating and issued a $18.00 price objective (up previously from $16.00) on shares of ADTRAN in a report on Saturday, July 22nd. One equities research analyst has rated the stock with a sell rating, three have assigned a hold rating and five have issued a buy rating to the company. ADTRAN currently has a consensus rating of "Hold" and a consensus target price of $24.14.
ADTRAN Company Profile
ADTRAN, Inc (ADTRAN) is a provider of networking and communications equipment. The Company's solutions enable voice, data, video and Internet communications across a range of network infrastructures. It operates through two segments: Network Solutions and Services & Support. Network Solutions includes software and hardware products that enable CSPs and enterprise customers to realize a fully connected world.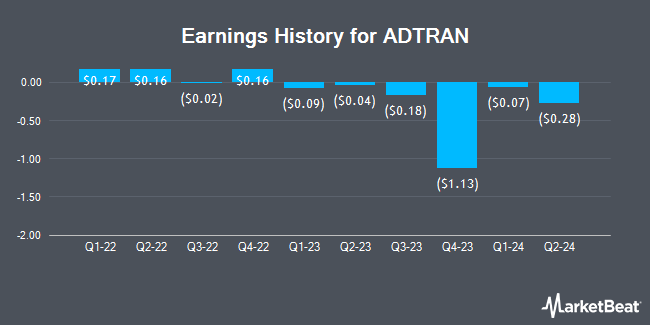 Receive News & Ratings for ADTRAN Inc. Daily - Enter your email address below to receive a concise daily summary of the latest news and analysts' ratings for ADTRAN Inc. and related companies with MarketBeat.com's FREE daily email newsletter.