Solar Capital Ltd. (SLRC) Scheduled to Post Quarterly Earnings on Tuesday
Solar Capital Ltd. (NASDAQ:SLRC) will be announcing its earnings results after the market closes on Tuesday, October 31st. Analysts expect the company to announce earnings of $0.42 per share for the quarter.
Solar Capital (NASDAQ:SLRC) last released its quarterly earnings data on Tuesday, August 1st. The financial services provider reported $0.38 EPS for the quarter, missing the Thomson Reuters' consensus estimate of $0.41 by ($0.03). Solar Capital had a return on equity of 7.30% and a net margin of 54.87%. The company had revenue of $33.89 million during the quarter, compared to analysts' expectations of $36.51 million. On average, analysts expect Solar Capital to post $1.62 EPS for the current fiscal year and $1.77 EPS for the next fiscal year.
Shares of Solar Capital Ltd. (NASDAQ SLRC) opened at 21.56 on Tuesday. The firm has a 50-day moving average price of $21.27 and a 200 day moving average price of $21.74. Solar Capital Ltd. has a 52-week low of $19.26 and a 52-week high of $22.94.
The business also recently announced a quarterly dividend, which was paid on Tuesday, October 3rd. Stockholders of record on Thursday, September 21st were issued a $0.40 dividend. This represents a $1.60 dividend on an annualized basis and a dividend yield of 7.42%. The ex-dividend date was Wednesday, September 20th. Solar Capital's payout ratio is currently 85.11%.
A number of research analysts recently weighed in on the company. Zacks Investment Research raised Solar Capital from a "sell" rating to a "hold" rating in a report on Wednesday, October 11th. BidaskClub lowered Solar Capital from a "hold" rating to a "sell" rating in a report on Friday, July 28th. Keefe, Bruyette & Woods set a $23.00 price objective on Solar Capital and gave the stock a "hold" rating in a report on Thursday, August 3rd. Finally, National Securities reaffirmed a "buy" rating and set a $24.00 price objective on shares of Solar Capital in a report on Monday, August 7th. One analyst has rated the stock with a sell rating, four have assigned a hold rating and two have issued a buy rating to the company's stock. The stock has a consensus rating of "Hold" and a consensus price target of $23.10.
WARNING: "Solar Capital Ltd. (SLRC) Scheduled to Post Quarterly Earnings on Tuesday" was first reported by Daily Political and is the property of of Daily Political. If you are accessing this piece on another site, it was stolen and reposted in violation of U.S. and international copyright and trademark law. The original version of this piece can be read at https://www.dailypolitical.com/2017/10/24/solar-capital-ltd-slrc-scheduled-to-post-quarterly-earnings-on-tuesday.html.
An institutional investor recently raised its position in Solar Capital stock. Northern Trust Corp increased its holdings in shares of Solar Capital Ltd. (NASDAQ:SLRC) by 11.7% during the second quarter, according to its most recent disclosure with the Securities and Exchange Commission (SEC). The firm owned 10,412 shares of the financial services provider's stock after acquiring an additional 1,088 shares during the period. Northern Trust Corp's holdings in Solar Capital were worth $228,000 as of its most recent SEC filing. 63.02% of the stock is currently owned by institutional investors and hedge funds.
Solar Capital Company Profile
Solar Capital Ltd. is a closed-end, externally managed, non-diversified management investment company. The Company's investment objective is to generate both current income and capital appreciation through debt and equity investments. It invests in privately held the United States middle market companies.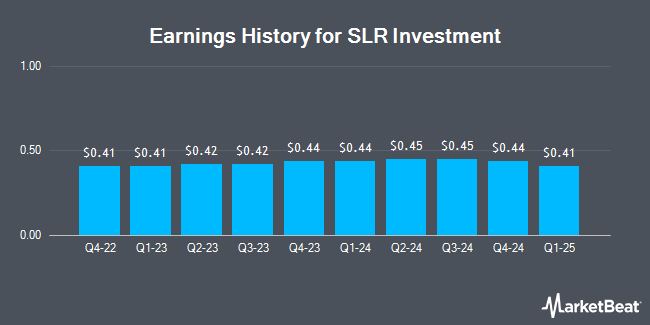 Receive News & Ratings for Solar Capital Ltd. Daily - Enter your email address below to receive a concise daily summary of the latest news and analysts' ratings for Solar Capital Ltd. and related companies with MarketBeat.com's FREE daily email newsletter.