Bristow Group Inc (BRS) Announces Earnings Results, Beats Expectations By $0.62 EPS
Bristow Group Inc (NYSE:BRS) issued its earnings results on Wednesday. The oil and gas company reported ($0.33) EPS for the quarter, beating the Zacks' consensus estimate of ($0.95) by $0.62, Bloomberg Earnings reports. The firm had revenue of $358.00 million for the quarter, compared to analyst estimates of $345.87 million. Bristow Group had a negative return on equity of 6.98% and a negative net margin of 13.31%. Bristow Group's revenue for the quarter was up 4.2% on a year-over-year basis. During the same quarter in the prior year, the firm earned ($0.35) earnings per share.
Shares of Bristow Group (BRS) opened at $13.57 on Friday. The company has a quick ratio of 0.99, a current ratio of 1.32 and a debt-to-equity ratio of 0.94. Bristow Group has a 52-week low of $6.21 and a 52-week high of $21.88.
BRS has been the topic of a number of recent research reports. Zacks Investment Research upgraded Bristow Group from a "sell" rating to a "buy" rating and set a $10.00 target price on the stock in a research report on Wednesday, September 6th. Cowen and Company set a $7.00 target price on Bristow Group and gave the company a "hold" rating in a research report on Friday, October 6th. BidaskClub upgraded Bristow Group from a "sell" rating to a "hold" rating in a research report on Friday, August 25th. Barclays PLC reiterated a "hold" rating and issued a $10.00 target price on shares of Bristow Group in a research report on Friday, August 11th. Finally, ValuEngine upgraded Bristow Group from a "strong sell" rating to a "sell" rating in a research report on Friday, September 1st. Two investment analysts have rated the stock with a sell rating, five have issued a hold rating and one has assigned a buy rating to the company's stock. Bristow Group currently has a consensus rating of "Hold" and a consensus price target of $12.60.
In related news, insider Jonathan Baliff acquired 6,500 shares of the stock in a transaction on Friday, August 18th. The shares were acquired at an average price of $7.70 per share, for a total transaction of $50,050.00. Following the transaction, the insider now owns 67,344 shares in the company, valued at approximately $518,548.80. The purchase was disclosed in a filing with the SEC, which is available through this link. Corporate insiders own 10.00% of the company's stock.
TRADEMARK VIOLATION WARNING: This article was published by Daily Political and is owned by of Daily Political. If you are viewing this article on another domain, it was stolen and republished in violation of U.S. and international trademark & copyright law. The original version of this article can be viewed at https://www.dailypolitical.com/2017/11/10/bristow-group-inc-brs-announces-earnings-results-beats-expectations-by-0-62-eps.html.
About Bristow Group
Bristow Group Inc is an industrial aviation services provider and helicopter service provider to the offshore energy industry. The Industrial Aviation Services segment's operations are conducted primarily through four regions: Europe Caspian, Africa, Americas and Asia Pacific. The Europe Caspian region consists of all its operations and affiliates in Europe and Central Asia, including Norway, the United Kingdom and Turkmenistan.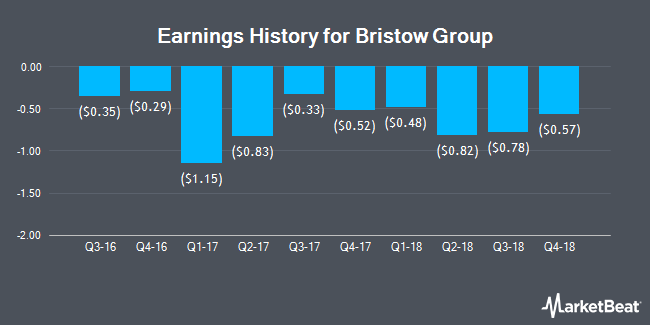 Receive News & Ratings for Bristow Group Inc Daily - Enter your email address below to receive a concise daily summary of the latest news and analysts' ratings for Bristow Group Inc and related companies with MarketBeat.com's FREE daily email newsletter.