Devro plc (DVO) PT Raised to GBX 220
Devro plc (LON:DVO) had its price objective raised by Peel Hunt from GBX 205 ($2.70) to GBX 220 ($2.89) in a report issued on Thursday. The firm currently has a hold rating on the stock.
DVO has been the subject of several other research reports. Shore Capital reiterated a hold rating on shares of Devro plc in a report on Wednesday, August 2nd. Numis Securities Ltd upped their price target on Devro plc from GBX 209 ($2.75) to GBX 220 ($2.89) and gave the stock a hold rating in a report on Thursday, August 3rd. Five equities research analysts have rated the stock with a hold rating, The stock has an average rating of Hold and an average price target of GBX 205 ($2.70).
Shares of Devro plc (DVO) traded up GBX 1.50 ($0.02) during trading on Thursday, reaching GBX 232 ($3.05). The company had a trading volume of 96,811 shares, compared to its average volume of 85,106. Devro plc has a 1-year low of GBX 139.34 ($1.83) and a 1-year high of GBX 247 ($3.25).
COPYRIGHT VIOLATION NOTICE: "Devro plc (DVO) PT Raised to GBX 220" was reported by Daily Political and is owned by of Daily Political. If you are viewing this story on another publication, it was illegally copied and republished in violation of U.S. & international copyright & trademark law. The legal version of this story can be viewed at https://www.dailypolitical.com/2017/11/13/devro-plc-dvo-pt-raised-to-gbx-220.html.
About Devro plc
Devro plc is a United Kingdom-based manufacturer of collagen products for the food industry. The Company conducts its operations through three segments: Americas, Asia-Pacific and Europe. The Americas segment includes the Company's operations in North America and Latin America. The Asia-Pacific segment includes the Company's operations in Australia, New Zealand, Japan, China and the rest of South East Asia.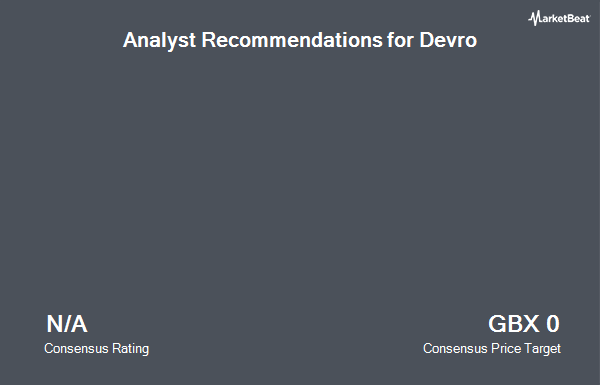 Receive News & Ratings for Devro plc Daily - Enter your email address below to receive a concise daily summary of the latest news and analysts' ratings for Devro plc and related companies with MarketBeat.com's FREE daily email newsletter.