Intersections, Inc. (INTX) Announces Earnings Results
Intersections, Inc. (NASDAQ:INTX) announced its quarterly earnings results on Monday. The business services provider reported ($0.14) earnings per share (EPS) for the quarter, Bloomberg Earnings reports. Intersections had a negative return on equity of 421.25% and a negative net margin of 19.25%.
Shares of Intersections (INTX) traded up $0.04 during midday trading on Tuesday, reaching $2.34. The company's stock had a trading volume of 19,700 shares, compared to its average volume of 23,348. The company has a quick ratio of 1.07, a current ratio of 1.07 and a debt-to-equity ratio of -12.12. Intersections has a 12 month low of $2.00 and a 12 month high of $5.75.
In other Intersections news, major shareholder Osmium Partners, Llc sold 19,286 shares of Intersections stock in a transaction dated Friday, September 8th. The stock was sold at an average price of $3.35, for a total transaction of $64,608.10. The sale was disclosed in a filing with the Securities & Exchange Commission, which can be accessed through the SEC website. 67.00% of the stock is owned by insiders.
An institutional investor recently raised its position in Intersections stock. Northern Trust Corp lifted its position in shares of Intersections, Inc. (NASDAQ:INTX) by 3.3% during the second quarter, according to its most recent Form 13F filing with the SEC. The institutional investor owned 23,086 shares of the business services provider's stock after purchasing an additional 736 shares during the period. Northern Trust Corp owned about 0.10% of Intersections worth $109,000 at the end of the most recent reporting period. Institutional investors own 25.01% of the company's stock.
Separately, ValuEngine downgraded Intersections from a "buy" rating to a "hold" rating in a report on Thursday, August 17th.
COPYRIGHT VIOLATION WARNING: "Intersections, Inc. (INTX) Announces Earnings Results" was originally posted by Daily Political and is owned by of Daily Political. If you are accessing this news story on another website, it was illegally copied and republished in violation of US and international trademark and copyright legislation. The legal version of this news story can be viewed at https://www.dailypolitical.com/2017/11/14/intersections-inc-intx-announces-earnings-results.html.
Intersections Company Profile
Intersections Inc uses data to enable consumers reduce risk through subscription services. The Company's operating segments include Personal Information Services, Insurance and Other Consumer Services, and Bail Bonds Industry Solutions. The Company's Personal Information Services business segment focuses on helping consumers understand, monitor, manage and protect against the risks associated with third parties misusing their personal information and violating their privacy.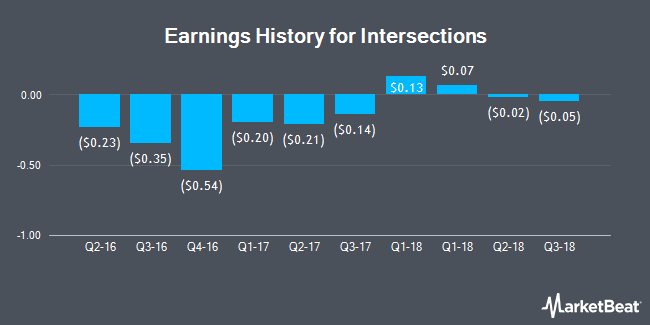 Receive News & Ratings for Intersections Inc. Daily - Enter your email address below to receive a concise daily summary of the latest news and analysts' ratings for Intersections Inc. and related companies with MarketBeat.com's FREE daily email newsletter.