Softcat PLC (SCT) Insider Peter Ventress Buys 18,202 Shares of Stock
Softcat PLC (LON:SCT) insider Peter Ventress purchased 18,202 shares of the business's stock in a transaction on Thursday, November 16th. The stock was purchased at an average price of GBX 547 ($7.19) per share, for a total transaction of £99,564.94 ($130,954.81).
Shares of Softcat PLC (LON SCT) opened at GBX 543 ($7.14) on Friday. Softcat PLC has a 52-week low of GBX 283 ($3.72) and a 52-week high of GBX 551.50 ($7.25).
The company also recently announced a dividend, which will be paid on Friday, December 15th. Shareholders of record on Thursday, November 2nd will be given a GBX 19.60 ($0.26) dividend. This is an increase from Softcat PLC's previous dividend of $2.90. This represents a yield of 3.92%. The ex-dividend date is Thursday, November 2nd.
ILLEGAL ACTIVITY WARNING: "Softcat PLC (SCT) Insider Peter Ventress Buys 18,202 Shares of Stock" was originally published by Daily Political and is the property of of Daily Political. If you are reading this piece on another site, it was copied illegally and republished in violation of U.S. and international copyright laws. The correct version of this piece can be read at https://www.dailypolitical.com/2017/11/16/softcat-plc-sct-insider-peter-ventress-buys-18202-shares-of-stock.html.
Several analysts have recently commented on the company. Berenberg Bank downgraded Softcat PLC to a "hold" rating and set a GBX 425 ($5.59) price objective for the company. in a research note on Tuesday, August 29th. Jefferies Group LLC raised Softcat PLC to a "buy" rating and increased their price objective for the stock from GBX 345 ($4.54) to GBX 565 ($7.43) in a research note on Monday, October 23rd. One equities research analyst has rated the stock with a hold rating and four have issued a buy rating to the stock. The stock presently has a consensus rating of "Buy" and a consensus price target of GBX 426 ($5.60).
About Softcat PLC
Softcat Plc is an information technology (IT) reseller and IT infrastructure solutions provider to the corporate and public sector markets. The Company provides organizations with workplace, datacenter and networking, and security solutions combined with all the services required to design, implement, support and manage them, on premise or in the cloud.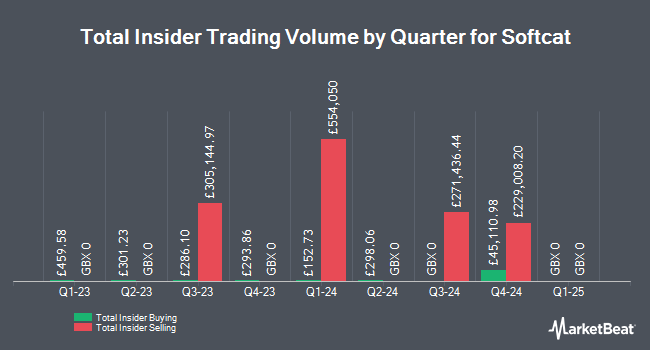 Receive News & Ratings for Softcat PLC Daily - Enter your email address below to receive a concise daily summary of the latest news and analysts' ratings for Softcat PLC and related companies with MarketBeat.com's FREE daily email newsletter.