Medley Management Inc. to Issue Quarterly Dividend of $0.20 (MDLY)
Medley Management Inc. (NYSE:MDLY) declared a quarterly dividend on Wednesday, November 8th, NASDAQ reports. Stockholders of record on Friday, November 24th will be given a dividend of 0.20 per share by the asset manager on Wednesday, December 6th. This represents a $0.80 dividend on an annualized basis and a dividend yield of 14.04%. The ex-dividend date of this dividend is Wednesday, November 22nd.
Medley Management (MDLY) traded up $0.15 during mid-day trading on Friday, reaching $5.70. The company's stock had a trading volume of 39,300 shares, compared to its average volume of 31,760. The company has a debt-to-equity ratio of -1.92, a quick ratio of 2.12 and a current ratio of 1.90. Medley Management has a twelve month low of $5.50 and a twelve month high of $10.65. The stock has a market capitalization of $29.52, a price-to-earnings ratio of 12.91 and a beta of 1.32.
Medley Management (NYSE:MDLY) last released its earnings results on Tuesday, November 14th. The asset manager reported $0.09 earnings per share for the quarter, missing analysts' consensus estimates of $0.12 by ($0.03). Medley Management had a negative return on equity of 35.40% and a net margin of 3.14%. The business had revenue of $16.65 million during the quarter, compared to analysts' expectations of $19.00 million. During the same quarter in the previous year, the business earned $0.14 EPS. The business's revenue for the quarter was down 11.8% on a year-over-year basis. equities research analysts forecast that Medley Management will post 0.31 earnings per share for the current fiscal year.
An institutional investor recently raised its position in Medley Management stock. State Street Corp boosted its stake in shares of Medley Management Inc. (NYSE:MDLY) by 9.6% during the 2nd quarter, according to the company in its most recent filing with the Securities and Exchange Commission (SEC). The firm owned 92,904 shares of the asset manager's stock after purchasing an additional 8,158 shares during the quarter. State Street Corp owned approximately 1.75% of Medley Management worth $603,000 as of its most recent SEC filing. Institutional investors and hedge funds own 65.72% of the company's stock.
A number of analysts have recently commented on the company. Zacks Investment Research upgraded Medley Management from a "sell" rating to a "hold" rating and set a $6.75 price objective for the company in a research report on Friday, October 20th. ValuEngine lowered Medley Management from a "buy" rating to a "hold" rating in a research note on Saturday, August 12th. One research analyst has rated the stock with a sell rating and five have issued a hold rating to the company's stock. The company presently has a consensus rating of "Hold" and an average target price of $8.94.
TRADEMARK VIOLATION WARNING: "Medley Management Inc. to Issue Quarterly Dividend of $0.20 (MDLY)" was published by Daily Political and is the sole property of of Daily Political. If you are viewing this report on another domain, it was copied illegally and reposted in violation of US & international copyright & trademark legislation. The legal version of this report can be accessed at https://www.dailypolitical.com/2017/11/17/medley-management-inc-to-issue-quarterly-dividend-of-0-20-mdly.html.
Medley Management Company Profile
Medley Management Inc is an asset management firm offering yield solutions to retail and institutional investors. The Company operates in the investment management segment. It is focused on credit-related investment strategies, primarily originating senior secured loans to private middle market companies in the United States.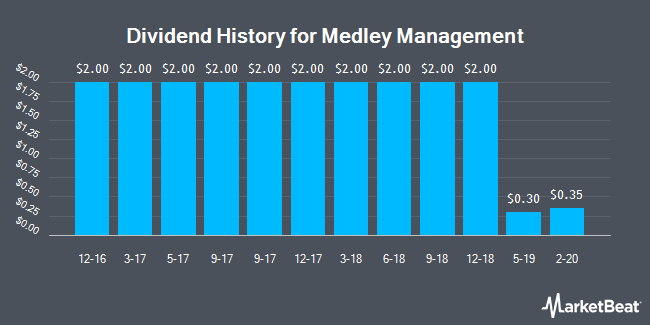 Receive News & Ratings for Medley Management Inc. Daily - Enter your email address below to receive a concise daily summary of the latest news and analysts' ratings for Medley Management Inc. and related companies with MarketBeat.com's FREE daily email newsletter.