TheStreet, Inc. (TST) CFO Buys $24,879.40 in Stock
TheStreet, Inc. (NASDAQ:TST) CFO Eric F. Lundberg bought 19,138 shares of the business's stock in a transaction that occurred on Thursday, November 16th. The stock was purchased at an average cost of $1.30 per share, with a total value of $24,879.40. Following the purchase, the chief financial officer now directly owns 31,153 shares in the company, valued at approximately $40,498.90. The acquisition was disclosed in a document filed with the SEC, which can be accessed through this hyperlink.
Shares of TheStreet, Inc. (NASDAQ:TST) opened at $1.35 on Monday. TheStreet, Inc. has a fifty-two week low of $0.61 and a fifty-two week high of $1.56. The stock has a market capitalization of $66.17, a PE ratio of 67.50 and a beta of 0.74.
TheStreet (NASDAQ:TST) last issued its earnings results on Monday, November 13th. The information services provider reported $0.01 earnings per share (EPS) for the quarter, topping the Zacks' consensus estimate of ($0.02) by $0.03. TheStreet had a positive return on equity of 1.04% and a negative net margin of 19.60%. The business had revenue of $15.25 million during the quarter, compared to analysts' expectations of $15.73 million. During the same quarter in the previous year, the business earned ($0.03) EPS. analysts expect that TheStreet, Inc. will post -0.01 earnings per share for the current year.
TheStreet declared that its board has authorized a share buyback program on Monday, November 13th that authorizes the company to repurchase 5,000,000 shares. This repurchase authorization authorizes the information services provider to reacquire shares of its stock through open market purchases. Stock repurchase programs are generally an indication that the company's leadership believes its shares are undervalued.
TRADEMARK VIOLATION NOTICE: "TheStreet, Inc. (TST) CFO Buys $24,879.40 in Stock" was first posted by Daily Political and is owned by of Daily Political. If you are accessing this article on another publication, it was illegally stolen and republished in violation of US & international trademark & copyright law. The legal version of this article can be read at https://www.dailypolitical.com/2017/11/20/thestreet-inc-tst-cfo-buys-24879-40-in-stock.html.
Several research analysts recently weighed in on TST shares. B. Riley reissued a "buy" rating and issued a $2.10 target price on shares of TheStreet in a research note on Friday, July 28th. Zacks Investment Research downgraded shares of TheStreet from a "strong-buy" rating to a "hold" rating in a research note on Friday, October 6th. ValuEngine raised shares of TheStreet from a "sell" rating to a "hold" rating in a research note on Tuesday, November 14th. Finally, Lake Street Capital upped their price objective on shares of TheStreet from $2.00 to $3.00 and gave the company a "buy" rating in a research note on Tuesday, November 14th.
A hedge fund recently raised its stake in TheStreet stock. Renaissance Technologies LLC grew its holdings in shares of TheStreet, Inc. (NASDAQ:TST) by 1.4% in the 1st quarter, according to the company in its most recent 13F filing with the Securities and Exchange Commission. The fund owned 1,743,100 shares of the information services provider's stock after buying an additional 24,700 shares during the quarter. Renaissance Technologies LLC owned 4.89% of TheStreet worth $1,325,000 as of its most recent SEC filing. 45.75% of the stock is owned by hedge funds and other institutional investors.
TheStreet Company Profile
TheStreet, Inc (TheStreet) is a digital financial media company focused on the financial, and mergers and acquisitions environment. The Company's collection of digital services provides users, subscribers and advertisers with a range of content and tools through a range of online, social media, tablet and mobile channels.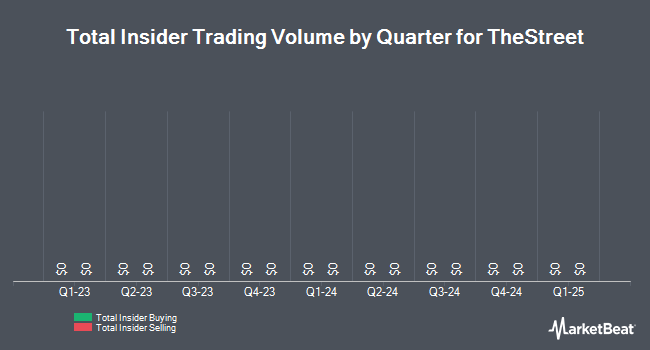 Receive News & Ratings for TheStreet Inc. Daily - Enter your email address below to receive a concise daily summary of the latest news and analysts' ratings for TheStreet Inc. and related companies with MarketBeat.com's FREE daily email newsletter.