Rogers Sugar Inc (RSI) Price Target Raised to C$7.50
Rogers Sugar Inc (TSE:RSI) had its price objective lifted by research analysts at Scotiabank from C$7.00 to C$7.50 in a report released on Tuesday. The firm currently has an "outperform" rating on the stock. Scotiabank's price target points to a potential upside of 22.55% from the stock's previous close.
RSI has been the subject of several other research reports. Desjardins reaffirmed a "buy" rating and issued a C$7.00 price objective on shares of Rogers Sugar in a report on Wednesday, October 18th. TD Securities lifted their price objective on Rogers Sugar from C$6.50 to C$7.00 and gave the stock a "hold" rating in a report on Wednesday, August 9th. BMO Capital Markets raised Rogers Sugar from a "market perform" rating to an "outperform" rating and lifted their price objective for the stock from C$6.75 to C$7.00 in a report on Monday, July 31st. Finally, National Bank Financial lifted their price objective on Rogers Sugar from C$6.75 to C$7.00 and gave the stock a "sector perform" rating in a report on Tuesday. Two investment analysts have rated the stock with a hold rating and three have given a buy rating to the company. The company presently has a consensus rating of "Buy" and an average target price of C$7.15.
Shares of Rogers Sugar (TSE RSI) traded up C$0.07 on Tuesday, hitting C$6.12. The company had a trading volume of 167,208 shares, compared to its average volume of 154,892. Rogers Sugar has a one year low of C$5.90 and a one year high of C$6.94.
WARNING: This story was first published by Daily Political and is the sole property of of Daily Political. If you are viewing this story on another website, it was copied illegally and reposted in violation of US & international trademark and copyright legislation. The original version of this story can be accessed at https://www.dailypolitical.com/2017/11/21/rogers-sugar-inc-rsi-price-target-raised-to-c7-50.html.
About Rogers Sugar
Rogers Sugar Inc holds all of the common shares of Lantic Inc (Lantic). Lantic is engaged in sugar business and operates as a refiner, processor, distributor and marketer of sugar products in Canada. As a sugar processor in Western Canada, Lantic supplies over 90% of the demand for refined sugar in that region.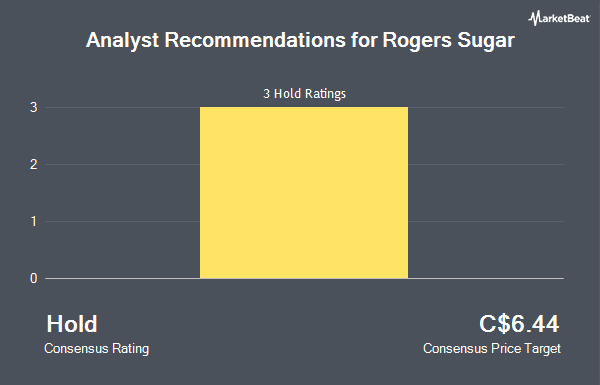 Receive News & Ratings for Rogers Sugar Inc Daily - Enter your email address below to receive a concise daily summary of the latest news and analysts' ratings for Rogers Sugar Inc and related companies with MarketBeat.com's FREE daily email newsletter.