Lundin Mining (LUN) Price Target Cut to C$6.00
Lundin Mining (TSE:LUN) had its price objective dropped by stock analysts at CIBC from C$7.00 to C$6.00 in a research report issued to clients and investors on Thursday. CIBC's price target points to a potential downside of 19.79% from the stock's current price.
Several other equities research analysts have also commented on LUN. Eight Capital reissued a "buy" rating on shares of Lundin Mining in a research note on Thursday, August 17th. Scotiabank reissued a "focus stock" rating and set a C$10.50 price target on shares of Lundin Mining in a research note on Wednesday, September 6th. Berenberg Bank decreased their price target on Lundin Mining from C$10.00 to C$9.25 in a research note on Friday, September 8th. National Bank Financial lowered Lundin Mining from an "outperform" rating to a "sector perform" rating and upped their target price for the company from C$10.50 to C$11.50 in a research note on Wednesday, October 18th. Finally, BMO Capital Markets reaffirmed an "outperform" rating and issued a C$10.50 target price on shares of Lundin Mining in a research note on Monday, October 23rd. Eight investment analysts have rated the stock with a hold rating and three have issued a buy rating to the company's stock. The company has a consensus rating of "Hold" and an average target price of C$9.30.
Shares of Lundin Mining (TSE:LUN) opened at C$7.48 on Thursday. Lundin Mining has a 52 week low of C$6.30 and a 52 week high of C$10.22.
WARNING: This piece was reported by Daily Political and is the sole property of of Daily Political. If you are viewing this piece on another publication, it was stolen and republished in violation of US and international copyright law. The correct version of this piece can be read at https://www.dailypolitical.com/2017/12/15/lundin-mining-lun-price-target-cut-to-c6-00.html.
Lundin Mining Company Profile
Lundin Mining Corporation is a diversified base metals mining company. The Company is engaged in mining, exploration and development of mineral properties, primarily in Chile, the United States, Portugal, Sweden and the Democratic Republic of Congo (DRC). Its segments include Candeleria, Eagle, Neves-Corvo, Zinkgruvan, Tenke Fungurume and Other.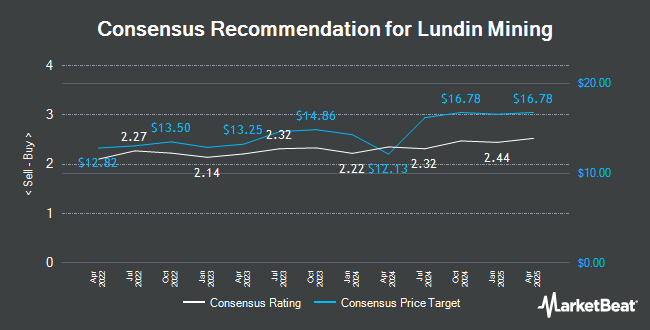 Receive News & Ratings for Lundin Mining Daily - Enter your email address below to receive a concise daily summary of the latest news and analysts' ratings for Lundin Mining and related companies with MarketBeat.com's FREE daily email newsletter.