Brian Ross Newman Purchases 1,000 Shares of Olympia Financial Group Inc (OLY) Stock
Olympia Financial Group Inc (TSE:OLY) Director Brian Ross Newman acquired 1,000 shares of the company's stock in a transaction that occurred on Monday, December 11th. The shares were acquired at an average price of C$30.75 per share, with a total value of C$30,750.00.
Olympia Financial Group Inc (TSE:OLY) traded up C$0.44 during trading on Friday, reaching C$31.85. The company's stock had a trading volume of 100 shares, compared to its average volume of 1,161. Olympia Financial Group Inc has a 1 year low of C$23.00 and a 1 year high of C$35.00.
The company also recently announced a monthly dividend, which will be paid on Friday, December 29th. Shareholders of record on Friday, December 29th will be given a $0.17 dividend. The ex-dividend date of this dividend is Monday, December 18th. This represents a $2.04 annualized dividend and a yield of 6.41%. Olympia Financial Group's dividend payout ratio is presently 105.42%.
TRADEMARK VIOLATION NOTICE: This report was originally published by Daily Political and is the sole property of of Daily Political. If you are accessing this report on another publication, it was stolen and republished in violation of United States & international copyright & trademark laws. The original version of this report can be viewed at https://www.dailypolitical.com/2017/12/16/brian-ross-newman-purchases-1000-shares-of-olympia-financial-group-inc-oly-stock.html.
Olympia Financial Group Company Profile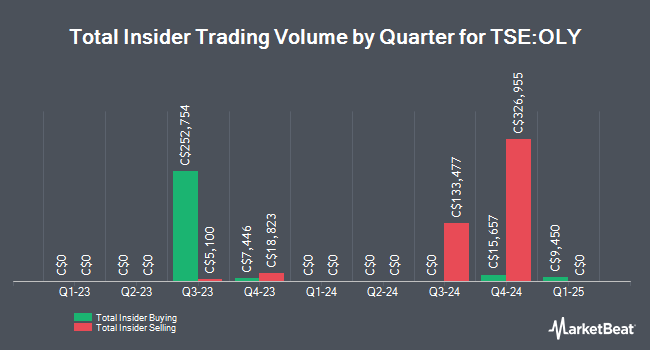 Receive News & Ratings for Olympia Financial Group Daily - Enter your email address below to receive a concise daily summary of the latest news and analysts' ratings for Olympia Financial Group and related companies with MarketBeat.com's FREE daily email newsletter.