Credit Suisse Group Begins Coverage on Ferguson (FERG)
Credit Suisse Group began coverage on shares of Ferguson (LON:FERG) in a report published on Wednesday morning. The firm issued an outperform rating and a GBX 6,200 ($83.45) target price on the stock.
Other equities analysts also recently issued reports about the company. Canaccord Genuity downgraded Ferguson to a hold rating and raised their price target for the company from GBX 5,435 ($73.15) to GBX 5,870 ($79.00) in a report on Wednesday, December 6th. Citigroup upgraded Ferguson to a buy rating and set a GBX 5,220 ($70.26) price target for the company in a report on Tuesday, September 19th. Peel Hunt raised their price target on Ferguson from GBX 5,120 ($68.91) to GBX 5,200 ($69.99) and gave the company a hold rating in a report on Tuesday, October 3rd. J P Morgan Chase & Co lifted their price objective on Ferguson from GBX 5,600 ($75.37) to GBX 5,675 ($76.38) and gave the stock an overweight rating in a report on Monday, December 4th. Finally, Deutsche Bank reiterated a hold rating and issued a GBX 4,700 ($63.26) price objective on shares of Ferguson in a report on Wednesday, December 6th. One research analyst has rated the stock with a sell rating, eight have assigned a hold rating and nine have assigned a buy rating to the company's stock. Ferguson presently has an average rating of Hold and an average price target of GBX 5,368.13 ($72.25).
Shares of Ferguson (LON:FERG) traded up GBX 29.10 ($0.39) during trading hours on Wednesday, hitting GBX 5,234.10 ($70.45). The stock had a trading volume of 967,232 shares, compared to its average volume of 783,450. Ferguson has a 1 year low of GBX 4,427 ($59.58) and a 1 year high of GBX 5,582.90 ($75.14).
The company also recently announced a dividend, which was paid on Friday, December 1st. Shareholders of record on Thursday, October 26th were given a GBX 73.33 ($0.99) dividend. The ex-dividend date of this dividend was Thursday, October 26th. This represents a yield of 1.41%.
In other Ferguson news, insider Richard Shoylekov sold 18,712 shares of the firm's stock in a transaction dated Tuesday, November 7th. The stock was sold at an average price of GBX 5,368 ($72.25), for a total value of £1,004,460.16 ($1,351,897.93).
ILLEGAL ACTIVITY WARNING: "Credit Suisse Group Begins Coverage on Ferguson (FERG)" was posted by Daily Political and is owned by of Daily Political. If you are viewing this report on another publication, it was stolen and republished in violation of United States & international copyright and trademark laws. The correct version of this report can be viewed at https://www.dailypolitical.com/2017/12/16/credit-suisse-group-begins-coverage-on-ferguson-ferg.html.
Ferguson Company Profile
Ferguson Plc, formerly Wolseley plc, is a Switzerland-based holding company. The Company is engaged in the distribution of plumbing and heating products and building materials. The Company's segments include USA, UK, Nordics, and Canada and Central Europe. The Company operates seven business units in the United States, six of these mainly operate in the business to business (B2B) market with one operating in the business to consumer (B2C) market.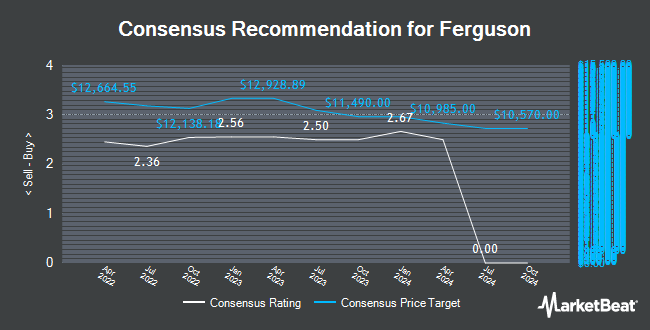 Receive News & Ratings for Ferguson Daily - Enter your email address below to receive a concise daily summary of the latest news and analysts' ratings for Ferguson and related companies with MarketBeat.com's FREE daily email newsletter.