SEGRO (SGRO) Upgraded by Liberum Capital to Buy
Liberum Capital upgraded shares of SEGRO (LON:SGRO) to a buy rating in a research note published on Friday morning. The brokerage currently has GBX 640 ($8.61) price objective on the real estate investment trust's stock, up from their prior price objective of GBX 505 ($6.80).
SGRO has been the subject of several other reports. J P Morgan Chase & Co reaffirmed an underweight rating and set a GBX 540 ($7.27) price objective on shares of SEGRO in a research report on Thursday, October 19th. Numis Securities reaffirmed an add rating and set a GBX 580 ($7.81) price objective on shares of SEGRO in a research report on Thursday, October 19th. Goldman Sachs Group reaffirmed a neutral rating and set a GBX 535 ($7.20) price objective on shares of SEGRO in a research report on Wednesday, September 27th. Finally, Peel Hunt reaffirmed an add rating on shares of SEGRO in a research report on Friday, October 6th. Two equities research analysts have rated the stock with a sell rating, five have given a hold rating and five have assigned a buy rating to the company. The company has an average rating of Hold and an average target price of GBX 534.92 ($7.20).
SEGRO (LON SGRO) traded up GBX 6.58 ($0.09) during trading hours on Friday, hitting GBX 574.58 ($7.73). The stock had a trading volume of 6,790,000 shares, compared to its average volume of 2,250,000. SEGRO has a twelve month low of GBX 415.69 ($5.59) and a twelve month high of GBX 579.50 ($7.80).
COPYRIGHT VIOLATION WARNING: This news story was first posted by Daily Political and is the property of of Daily Political. If you are accessing this news story on another publication, it was illegally copied and republished in violation of United States & international copyright & trademark legislation. The legal version of this news story can be viewed at https://www.dailypolitical.com/2017/12/16/segro-sgro-upgraded-by-liberum-capital-to-buy.html.
SEGRO Company Profile
SEGRO plc is a United Kingdom-based real estate investment trust. The Company owns, develops and manages warehouse properties in the United Kingdom and Continental Europe. Its segments include Greater London, Thames Valley and National Logistics, Northern Europe (principally Germany), Southern Europe (principally France) and Central Europe (principally Poland).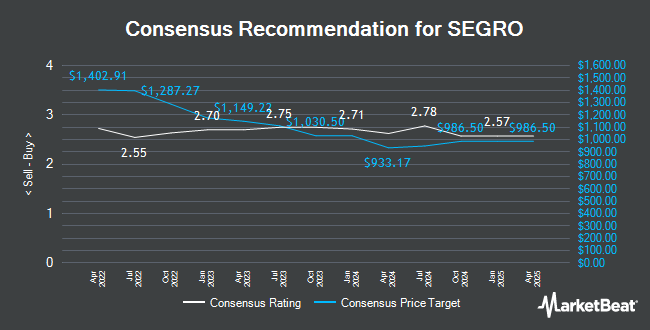 Receive News & Ratings for SEGRO Daily - Enter your email address below to receive a concise daily summary of the latest news and analysts' ratings for SEGRO and related companies with MarketBeat.com's FREE daily email newsletter.